Why Rite-Hite Fans?
Rite-Hite® is a world leader in the manufacture, sale, and service of high volume, low speed HVLS fans– all designed to improve safety, security, productivity, energy consumption, and environmental control. The ongoing evolution of Rite-Hite Fans and services is fueled by our strong commitment to innovation and a passion to provide effective solutions for our customers. Get your free assessment today.

When considering high volume, low speed HVLS Fans there are several important criteria to consider before making a decision
Here are some of the key differences between Rite-Hite high volume, low speed (HVLS) Fans and other HVLS fans: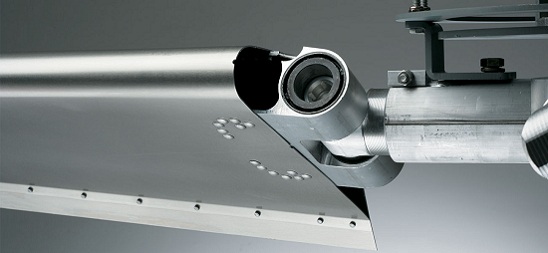 Blade Design
Rite-Hite Fans' unique Propell-Aire blade design has a complex contoured shape (tilt, taper and twist) that varies along its length. It is the shape, not the number of blades that generates the large volume of air movement needed for an effective HVLS fan. Maximum air volume is delivered when there is a consistent amount of air movement across the entire diameter of the fan. The Propell-Aire blade design is impossible to produce by extrusion. Extruded blades do not provide this efficient, consistent air movement and they require a greater number of blades to help compensate. With extruded blades there is an area directly underneath the fan where you feel little if any air movement. These "holes" exist because an extruded blade does not move air uniformly across the full diameter of the fan. These "holes" do not exist with the Rite-Hite Fans, which is an important benefit for many applications.
Blade/Hub Connection
Each blade is attached to the hub in two specific ways. The blade is seated into a secure position on the hub arm and then locked in with a precision machined bolt that is torqued to 200 ft-lbs. (271 Nm) (Revolution/Rogue/Renegade) and 75 ft-lbs. (102 Nm) (Rave) for a solid connection.
A vibration-absorbing material is used to reduce the stress by 50-75%. This design has been used for over 40 years in applications generating more than 10 times the stress of a Rite-Hite HVLS Fan, and allows us to be confident providing the 10 year structural integrity warranty on the blade to hub connection. This connection is critical, because like the blades of a helicopter, a combination of centrifugal force and air pressure causes the blades to move upward during operation.
Similar to the tires on your vehicle. Rite-Hite HVLS Fan hubs and blades are "rotationally-balanced" at the factory. They are ideally suited for your fan application and will never require adjustment. An extruded and milled aluminum hub is much stronger because of its design. The initial extrusion is a solid block of aluminum. A computer-controlled milling machine is used to precisely remove material, producing the highest quality component possible. A cast hub is created by pouring molten aluminum into a mold. It is difficult to regulate the consistency of a casting due to variances in the materials and manufacturing process. The end result is that a cast hub is cheaper to produce, more susceptible to cracking, and potentially porous.
Safety Connection
All Rite-Hite HVLS ceiling fans have a three-way motor to hub safety connection.
1. Hub attaches to motor with a reverse-threaded bolt and tapered aluminum bushing.
2. Safety ring provides back-up motor to hub safety connection.
3. Each blade arm is attached to the safety ring.
Local Service & Support
Installation of an HVLS fan is critical to its proper operation. Placement, size, installation, electrical hook-up, and service after the sale should all be taken into consideration. Rite-Hite Fans stands behind our products not only with warranties, but with factory technical support and local sales and service representatives throughout the lifetime of your product.
Warranties
Warranties are an important component to consider when purchasing HVLS fans. Rite-Hite Fans is committed to manufacturing the highest quality product and is supported by the best installation and service network in the industry. When selecting a product, make sure to read and understand the "fine print". Long warranties may look attractive on paper, but items like troubleshooting, lift rental, component removal, freight and re-installation costs may not be covered by some companies.
3-Year Parts and 3-Year Labor – Rite-Hite covers the motor and electrical controls for three (3) years from the date of shipment.
10-year Structural Integrity – Rite-Hite has the strongest blade-to-hub connection on the market and covers this connection if it fails to perform as designed.
Lifetime on workmanship of blades and hub – The Propell-Aire blades and milled hub carry a lifetime warranty that covers workmanship and defects.
1-Year Customer Satisfaction Money-Back Guarantee.
improving industrial safety, security and productivity worldwide THROUGH QUALITY AND INNOVATION