SCL Fabric Curtain Walls
Quickly, easily, and affordably adapt interior spaces for changing environmental zoning needs using Zoneworks® non-insulated fabric curtain walls.
Dust containment
If sanding, grinding, mixing or other processes in your facility generate dust, powder or fine particulates, fabric curtain walls can help you contain the mess.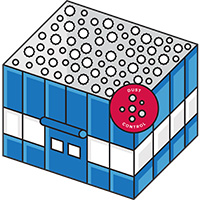 Keep dust off products and packaging, and out of machinery and production equipment.
Isolate individual work bays to contain sanding dust and paint overspray.
Protect worker health by preventing inhalation of airborne dust.
Prevent the spread of contaminants into adjacent areas.
Related blog: Dust Control Curtain Walls Aid Exhaust Methods
Fume/Odor Control
Zoneworks wall systems can be used for industrial odor control in any type of industrial plant or commercial facility. Protect employee health and comfort, or prevent absorption of food or chemical odors into other products.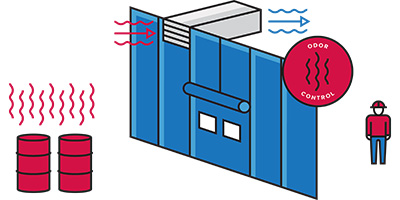 Related blog: How Curtain Walls Work for Fume Control Applications
Non-insulated fabric curtain wall construction
SCL Fabric Curtain Walls are highly durable, made of fire retardant vinyl fabric which meets NFPA-701 and CFM flame resistant standards.
Walls are available in stationary or sliding configurations.
improving industrial safety, security and productivity worldwide THROUGH QUALITY AND INNOVATION