TZ Insulated Curtain Walls
Zoneworks® Insulated Curtain Walls provide you with an adaptable way to separate and partition off temperature-controlled areas, contain heat, and control humidity levels.
Temperature Separation
Providing up to 40°F (22°C) or more of temperature separation, TZ insulated curtain walls keep chilled areas cool and heated areas warm, without the headaches of permanent IMP walls.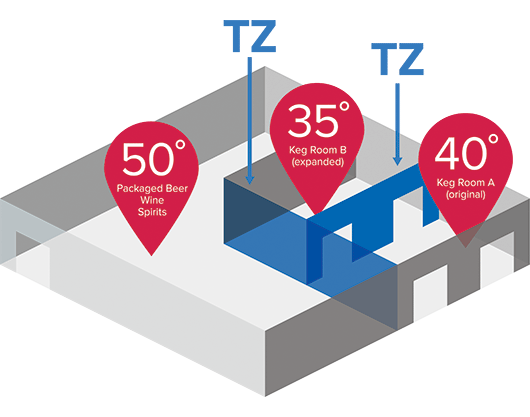 Create areas of different temperatures within your freezer, cooler, warehouse, open dock or production area
Protect temperature-sensitive items from heat or ambient temperatures
Maintain consistent temperatures in each zone for maximum energy efficiency and reduced shrink
Keep employees cool or warm in specified plant areas
Related blog:5 Ways Curtain Walls Add Value to Your Food Processing Facility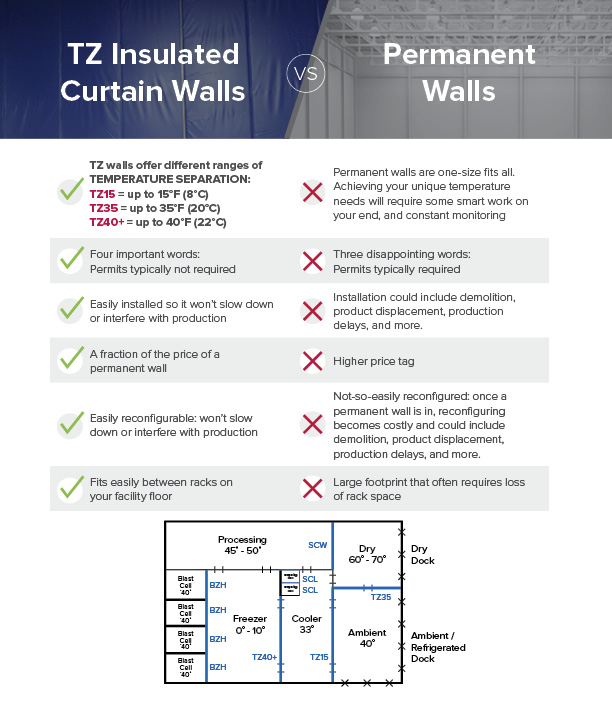 Heat Containment
Our insulated curtain walls are constructed with polyester batting or a special heat-reflecting fabric that prevents heat penetration - keeping the heat on one side and maintaining an ambient temperature on the other.
Isolate heat-generating production processes for employee comfort
Prevent excessive heat from migrating and affecting other processes
Maintain temperatures above certain levels in production areas to ensure process integrity
Related blog: Two Heat Containment Applications with Photos
Humidity Control
Rite-Hite has an affordable solution to effectively control humidity levels within your facility. From aiding in the banana ripening process to properly curing adhesives in auto sunroofs, TZ Insulated Curtain Walls will help you maintain precise, effective humidity levels in any type or size of plant.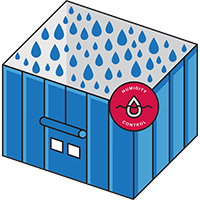 Related blog: How Insulated Curtain Walls Work for Humidity Control Applications
Insulated Curtain Wall Construction
Constructed of industrial vinyl wrapped around antimicrobial polyester batting, Zoneworks TZ Insulated Curtain Walls come in three models for different temperature-separation needs:
TZ15 provides up to 15°F (8°C) of temperature separation.
TZ35 provides up to 35°F (20°C) of temperature separation.
TZ40+ provides 40°F (22°C) or more of temperature separation.

TZF Insulated Curtain Wall with enhanced flame resistance provides up to 35°F (20°C) of temperature separation. Internal carbon fiber construction limits smoke and flame spread. Meets NFPA Class A Standard. Full specifications available upon request.
Our polyester batting is FMVSS-302 certified and our vinyl fabric meets NFPA-701 and CFM flame resistant standards.
improving industrial safety, security and productivity worldwide THROUGH QUALITY AND INNOVATION