Dust Control Curtains
Maintain a safe environment
Minimize cross-contamination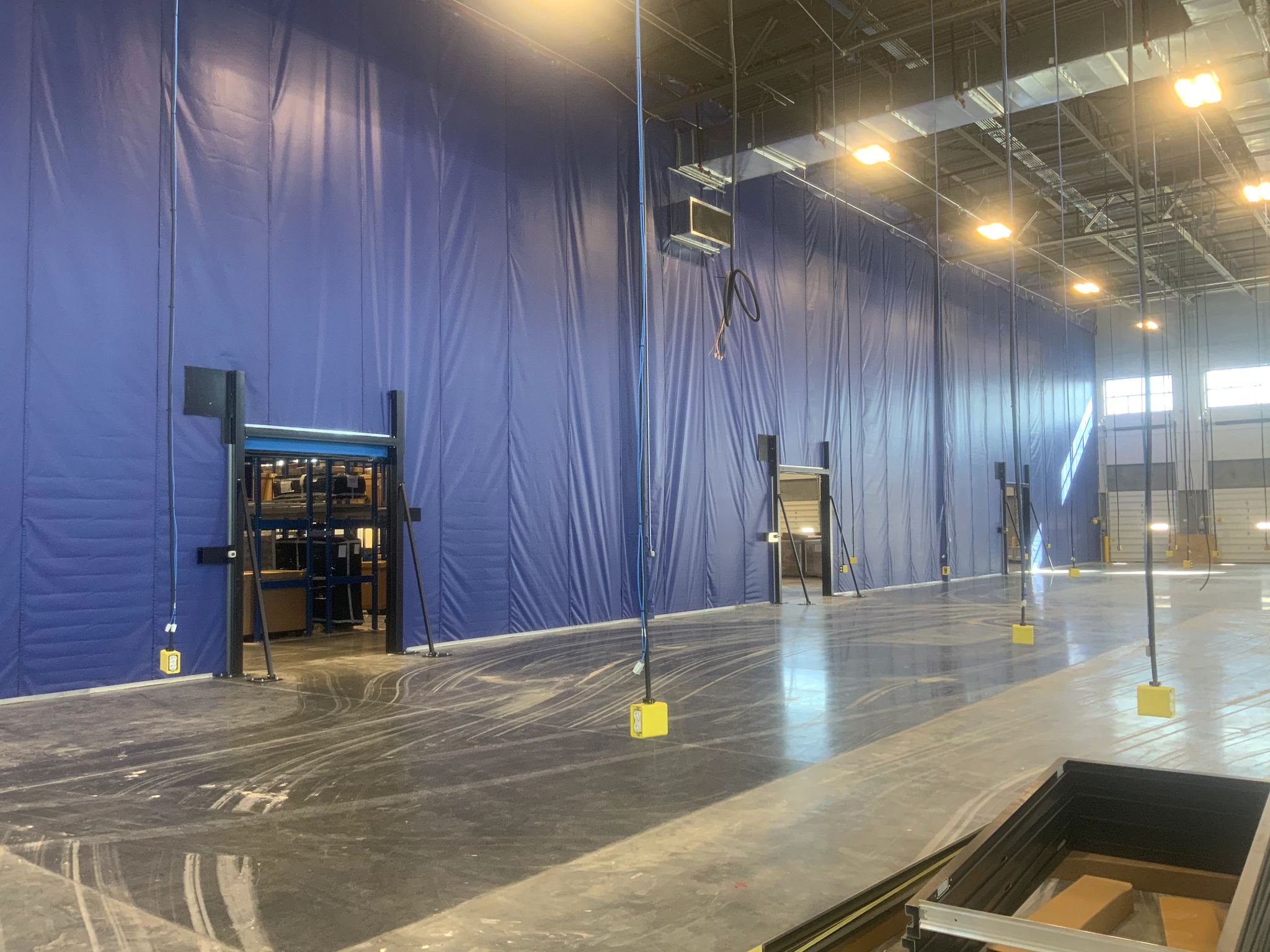 Industrial Dust Control Curtains
Zoneworks® Industrial Dust Control Curtains by Rite-Hite provide an economical way to partition spaces to help contain contaminants and prevent them from infiltrating other areas.
SCL Fabric Curtains
HOW DUST CONTROL CURTAINS WORK
Zoneworks® Industrial Dust Control Curtains by Rite-Hite help create an effective physical barrier, blocking the transfer of dust particles or debris from space to space, and making exhaust and separation systems for dust more efficient.
Reduce the amount of dust spread onto neighboring equipment, furniture, office equipment, windows and floors
Help prevent uncontrolled particulate matter from spoiling or degrading batches of differing critical materials
Protect employees from airborne dust that can be an irritant to skin, eyes or bronchial airways
Our Industrial Dust Control Curtains are configured based on your specific application needs. Custom engineering ensures a proper fit around corners and obstructions. With their modular, reconfigurable nature and ease of installation, dust control curtains offer companies a quick and affordable solution to this challenge. Our SCW Curtain Walls are ideal for areas that may accumulate dust particles overtime and are frequently washed down. For applications requiring thicker materials, our SCH Heavy-Duty Sliding Curtain Walls are made of heavy vinyl fabric, while our SCL Fabric Curtains are made of a durable, yet lighter non-insulated fabric for various environmental zoning needs.
INDUSTRIES SERVED
Pulp and paper manufacturing generates dust. Keep that dust off products and packaging and out of machinery and production equipment.
Food processing requires special dust control measures to prevent flour, dust, or allergens produced during mixing/blending operations in one part of your plant from spreading into other areas.
In manufacturing and other industries, dust can be harmful to workers, machinery, processes, or finished product. It can also pose a serious combustion concern in certain settings.
Construction projects with sanding, grinding, mixing or other processes can generate dust or fine particulates, fabric curtain walls can provide a temporary solution to help contain the mess.
FREQUENTLY ASKED QUESTIONS
How do dust control walls help exhaust and separation systems be more efficient?
Industrial curtain walls act as a very effective physical barrier, blocking the transfer of dust particles or debris from space to space. Anytime a space is to be exhausted, the smaller the space can be made, the smaller the exhaust equipment that can be specified. Partitioning around a dust source with a fabric curtain wall takes full advantage of this relationship. By reducing the volume of the space to be exhausted, smaller fan(s) can be used, with less total air movement being required. Lower air velocity through filter media increases the effective particle separation of the device and lower air flow through the filter reduces the frequency required for change out or cleaning.
Can you clean curtain walls?
Yes, occasional cleaning of your curtain walls will keep them looking great for a long time. Just be sure you follow these guidelines for proper cleaning:
If the curtain wall fabric incorporates a waterproof outer coating like vinyl, simply wash the curtain surface gently with a mild detergent and water mixture. Then, rinse off using low pressure water from a hose. (This applies to insulated and non-insulated curtain walls in either a stationary or sliding configuration.)
Insulated curtain walls covered in uncoated fabric should be brushed or vacuumed and not sprayed with water or cleaning agents.
Can I install a curtain wall system myself or with in-house personnel?
Absolutely. Anyone with mechanical aptitude can install this product after reviewing our architectural drawings and discussing with our sales or engineering staff. Typically, we conduct a pre-installation site visit or conference call to make sure all parties understand the procedures and answer any questions or concerns before the installation begins. We find this to be very effective in resolving any potential issues. However, if you do not have the manpower or time to complete the installation, we offer full turn-key installations so that you can concentrate on your business or daily operations.
Need more info?
Fill out the form below and one of our reps will reach out to you.
improving industrial safety, security and productivity worldwide THROUGH QUALITY AND INNOVATION

WANT MORE INFORMATION?
Fill out the form below and one of our reps will reach out to you.
Thank you for filling in the form.
Someone from our team will be in touch with you shortly.