Defender™
1 HP motor/brake/gear box
Guards machinery, robots or processes
Reduces floor space requirements
Defender Automated Door
Defender™ is the industry's most effective machine guarding door device yet. Designed with the latest regulations and most demanding manufacturing process in mind, the Defender is the ideal device for safeguarding machinery in many manufacturing environments.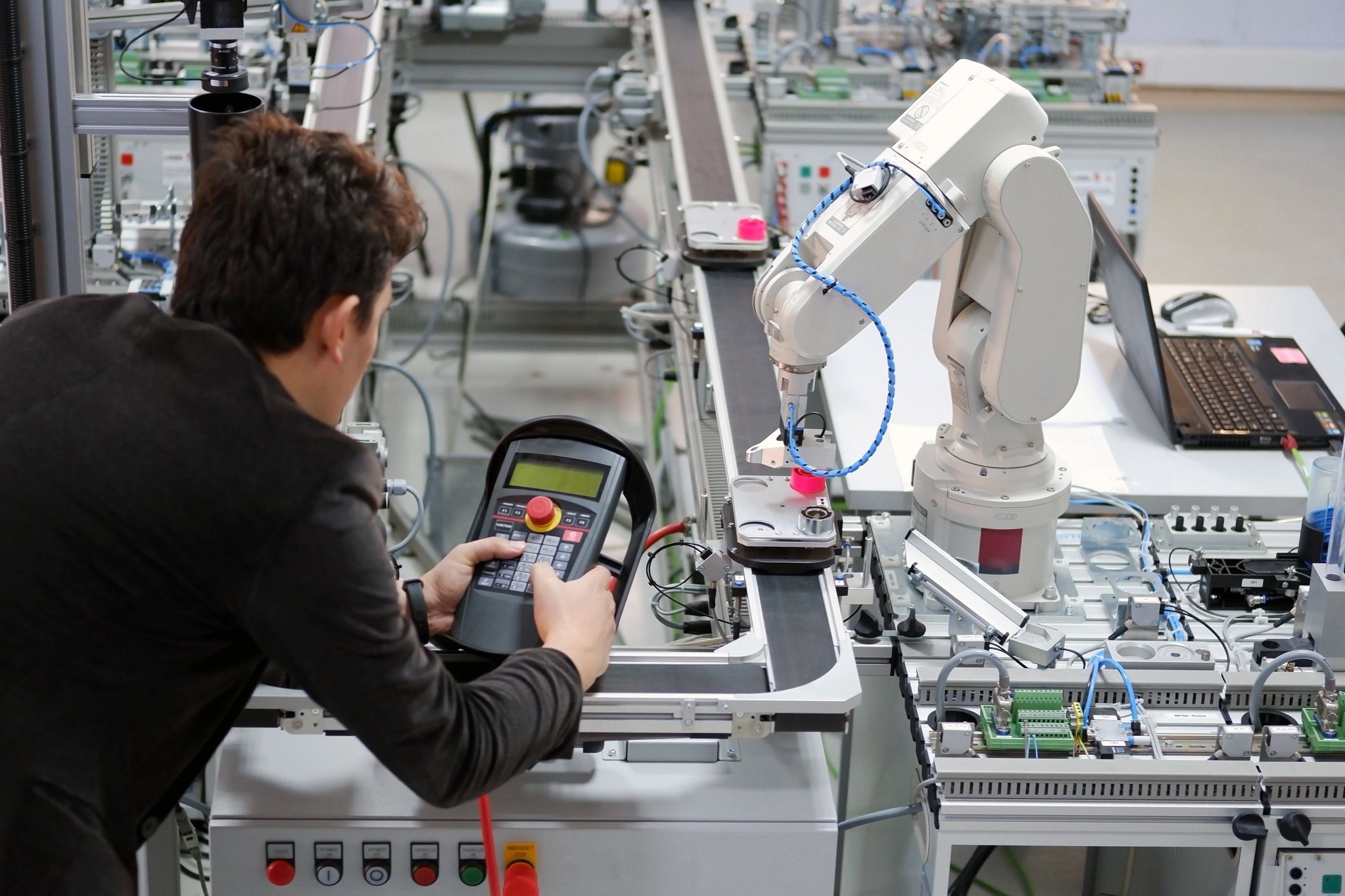 Robotics and Automated Machine Safety
Learn more about the new industrial revolution on the horizon that integrates mankind and machine in ways only sci-fi movies once imagined. Industry 5.0 promises a workforce of human and machine collaborators capable of lightning fast efficiency with reduced risk. Download yours today!
Essential Guide: Pharma Industry Trends
Benefits
Anywhere that a machine operator interfaces with a machine, robot or process is an ideal application for the Defender.
Visibly safer than light curtains, the Defender combines safety interlock switches/controls capable of achieving up to PLe, Category 4 level safety with a movable physical barrier restricting access to dangerous machine movement while at the same time containing process driving hazards such as weld flash/sparks, flying debris, mist, spray and other containment and exposures.
Protects operators from application driven hazards while restricting access from machine/robot operation both physically and electronically with optional safety rated switches and controls.
Switches/controls capable of reaching Cat 4 (per 954-1), PLe (per ENISO 13489-1) and/or SIL 3 (per EN62061) when integrated properly.
Armorplex™ Curtain Material: Durable, Resilient 40oz flame resistant (NFPA 701) high tensile ASTM tested black curtain material.
Multiple motor positions to best fit your application.
See safety distance formula information here. EN ISO 13857 Safety of machinery - Safe distances to prevent hazard zones being reached by upper/lower limbs and EN ISO 13855 Safety of machinery - Position of safeguards with respect to the approach speeds of parts of the body.
Rugged Construction.
Manufactured under ISO 9001 Specifications.
Easy Installation with Minimal Components.
Optional control boxes include: Full Open-Close-Stop Push Button Relay Control Box. Patented i-COMM™ Digital Communication Control Box and Plug-N-Play Integrator Control Box.
Limited one year warranty SOP.
Custom Manufactured to exact size requirements.
HD Motor/Brake/Gear box suited for millions of cycles.
Optional STOPPING photo-eye strip.
Soft Bottom Edge - Gravity down operation.
Patented Switch design integrated into curtain guide.
Automated to the process to reduce operator fatigue.
Fully Sealed Barrier Tabs prevent access to hazard and act as barrier with 450# tear out strength.
Visibly safer than light curtains.
GUARDS your machinery and PROTECTS your employees.
CONTAINS application driven hazards including weld flash/sparks/smoke, mist, flying debris and other exposure.
Reduces footprint of manufacturing cell by locating closer to hazard.
Increases Productivity! Door provides clear visual that operator should be on task.
Proven, Safe, Reliable Design.
Need more info?
Fill out the form below and one of our reps will reach out to you.
improving industrial safety, security and productivity worldwide THROUGH QUALITY AND INNOVATION

WANT MORE INFORMATION?
Fill out the form below and one of our reps will reach out to you.
Thank you for filling in the form.
Someone from our team will be in touch with you shortly.