TS-2000 Trailer Stand
100,000 lb. (45,400 kg) capacity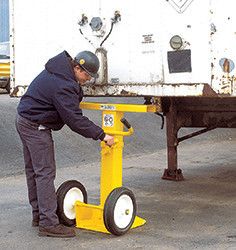 Avoid Injuries, Downtime and Loss of Product with Trailer Stands
An inexpensive method to meet OSHA regulations
Helps prevent accidents due to trailer landing gear collapse
Handle most trailers with our 100,000 lb. (45,400 kg) capacity fixed trailer jack.
Maintenance free design
Safe, productive, and easy to use
Fits most truck trailers
Benefits
TS-2000 Trailer Stands are designed to fit most types of trailers that may come into your loading docks. They have an overall retracted length of 42" (1065 mm) and an overall extended length of 55" (1400 mm) and a static load capacity of 100,000 lbs. (45,400 kg).
Seldom used or rusted landing gear may collapse under extreme weight conditions. With the TS-2000 Trailer Stand, the trailer remains supported and minimizes this dangerous condition.

In addition, when fork trucks load at the front of trailers, the trailer can become nose heavy and tip resulting in a trailer up-ending. This hazardous situation can be prevented by using the TS-2000 Trailer Stand.
The TS-2000 is made of heavy, square, tubular construction. A single gear makes the TS-2000 virtually maintenance free and easy to use. Positioning crank is always in a ready-to-use position helping to reduce wasted time. Tires are made of 16" (405 mm) solid rubber and the TS-2000 is designed with a bar to help with ease of positioning and to be more ergonomic.
OSHA Regulation 1910.178: Fixed jacks may be necessary to support a semi-trailer and prevent upending during loading or unloading when the trailer is not coupled to a tractor.
TTMA Technical Bulletin No. 57: It is recommended that an adequate stabilizing device or devices be employed at the front of the trailer in all cases where a trailer is being loaded or unloaded.
AIAG 3.3.6 Shipping and Receiving Handbook: Trailer jacks are required for "spotted" trailers to provide support in the event of landing gear failure.
Optional Transportation Wheel
Third wheel system.
Easier to maneuver and position under normal operating conditions.
Is also available as an upgrade that can be retrofitted to an existing TS-2000.

Vehicle Restraints
Dok-Lok Rotating Hook Vehicle Restraints can also help prevent accidents caused by landing gear collapse.
Need more info?
Fill out the form below and one of our reps will reach out to you.
improving industrial safety, security and productivity worldwide THROUGH QUALITY AND INNOVATION

WANT MORE INFORMATION?
Fill out the form below and one of our reps will reach out to you.
Thank you for filling in the form.
Someone from our team will be in touch with you shortly.