Industrial Heat Curtains
Partition spaces quickly and affordably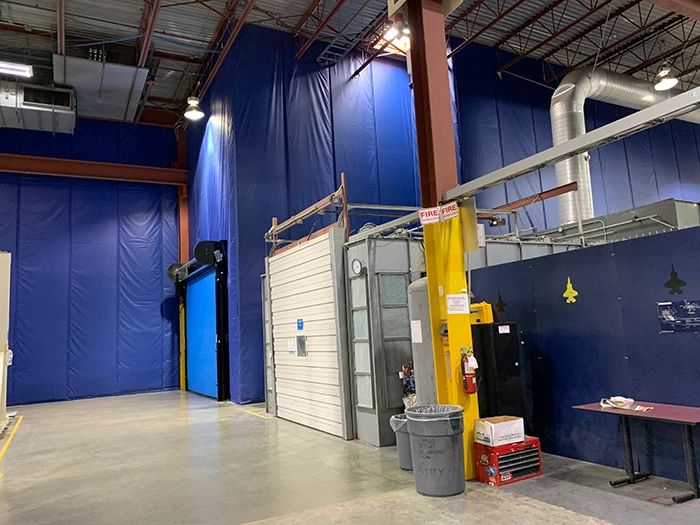 Industrial Curtains for Heat Containment
Rite-Hite's industrial heat curtains are an affordable and effective way to prevent heat penetration into areas of your operation.
TZ Insulated Curtain Walls
HOW HEAT CONTAINMENT CURTAINS WORK
Industrial heat containment curtain walls help prevent heat penetration from affecting other employees or processes. Whether you need to isolate a single heat-generating production process or control an entire area, our Zoneworks® TZ Insulated Curtain Walls minimize the heat transfer between areas while protecting employees.
Our insulated curtain walls are constructed with polyester batting or a special heat-reflecting fabric that prevents heat penetration. Insulated Curtain Walls come in three models for different temperature-separation needs:
TZ15 provides up to 15°F (8°C) of temperature separation.
TZ35 provides up to 35°F (20°C) of temperature separation.
TZ40+ provides 40°F (22°C) or more temperature separation.
INDUSTRIES SERVED
Zoneworks® Heat Containment Curtains have a variety of industry applications.
Manufacturing – Control the heat from machinery or other processes to protect your employees or products from excessive heat. Paint or curing ovens can be separated from production employee areas.
Food – Contain heat in storage areas for products that require certain temperatures.
Warehousing – Effectively keep targeted areas of your warehouse heated without having to invest in permanent walls, saving energy and cutting down on costs.
FREQUENTLY ASKED QUESTIONS
Are curtain walls "fire-rated"?
No, a curtain wall does not satisfy one-hour fire rated requirements, nor is it a substitute for an approved fire wall. A firewall is a fire-resistant barrier used to prevent the spread of fire for a prescribed period of time. No known fabric wall on the market today can satisfy this requirement. This is primarily due to the unavailability of materials that can pass the fire-rating test while maintaining flexibility and other desirable characteristics associated with fabric curtain walls.
What temperature ranges can Zoneworks heat containment walls work?
Operating temperature range of insulated curtain walls is -30°F to 180°F. Adding vision to a curtain wall drops the high range from 180°F to 150°F.
What is the weight of insulated curtain walls?
The weight of insulated curtain walls varies based on the amount of insulation required to achieve a desired temperature separation.
TZ15 product weight is .35 lbs./sq. ft.
TZ35 product weight is .44 lbs./sq. ft.
TZ40+ product weight is .88 lbs./sq. ft.
Note: Mounting angle and fasteners are not factored into the sq. ft. weight.
Need more info?
Fill out the form below and one of our reps will reach out to you.
improving industrial safety, security and productivity worldwide THROUGH QUALITY AND INNOVATION

WANT MORE INFORMATION?
Fill out the form below and one of our reps will reach out to you.
Thank you for filling in the form.
Someone from our team will be in touch with you shortly.