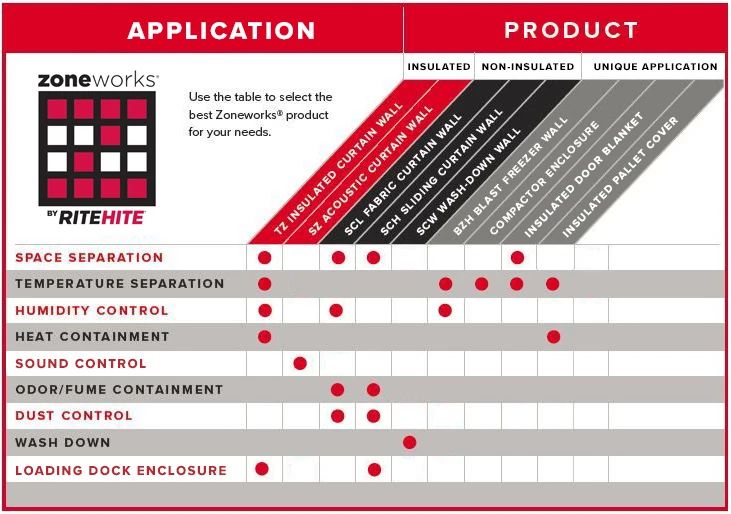 CLEAR AND SIMPLE
Choosing the right fabric curtain wall comes down to your application. Take a look at the chart and product descriptions below it to see what curtain wall might be right for your situation.
VIEW CHART
Benefits
TZ Insulated Curtain Wall
Insulated Curtain Walls provide you with an adaptable way to contain heat, control humidity, or separate and partition off temperature-controlled areas.
TZD Loading Dock Enclosure
Zoneworks® TZD Loading Dock Enclosures provide an effective solution to surround interior and open loading docks.
SZ Noise Control Wall
Trust Zoneworks® Acoustic Curtain Walls to partition off separate sound zones, protect employee hearing, enhance worker comfort, and enclose noisy machines and equipment.
BZH Blast Freezer Wall
Food manufacturers and distributors need to quickly bring foods to an optimal temperature to maintain their freshness, safety and integrity. Zoneworks Blast Freezer Curtains effectively seal and redirect the chamber's airflow, increasing efficiency, reducing blast cycle times, and lowering energy consumption.
Insulated Compactor Enclosure
The Zoneworks Compactor Enclosure provides an environmental control solution for trash compactors and dumpsters.
Insulated Door Blanket
The Insulated Door Blanket from Rite-Hite provides a quick and affordable way to protect temperature-controlled items and finished products from the threat of spoilage or irreparable damage that occurs when powered doors on coolers or freezers unexpectedly shut down for any reason.
Insulated Pallet Covers
Pallet temperature control is made simple withZoneworks® Pallet Covers. Each maintains hot and cold product temperatures throughout your supply chain.
Need more info?
Fill out the form below and one of our reps will reach out to you.
improving industrial safety, security and productivity worldwide THROUGH QUALITY AND INNOVATION

WANT MORE INFORMATION?
Fill out the form below and one of our reps will reach out to you.
Thank you for filling in the form.
Someone from our team will be in touch with you shortly.