HVHS Fans
2 mph air movement 90' away
Direct drive or belt drive available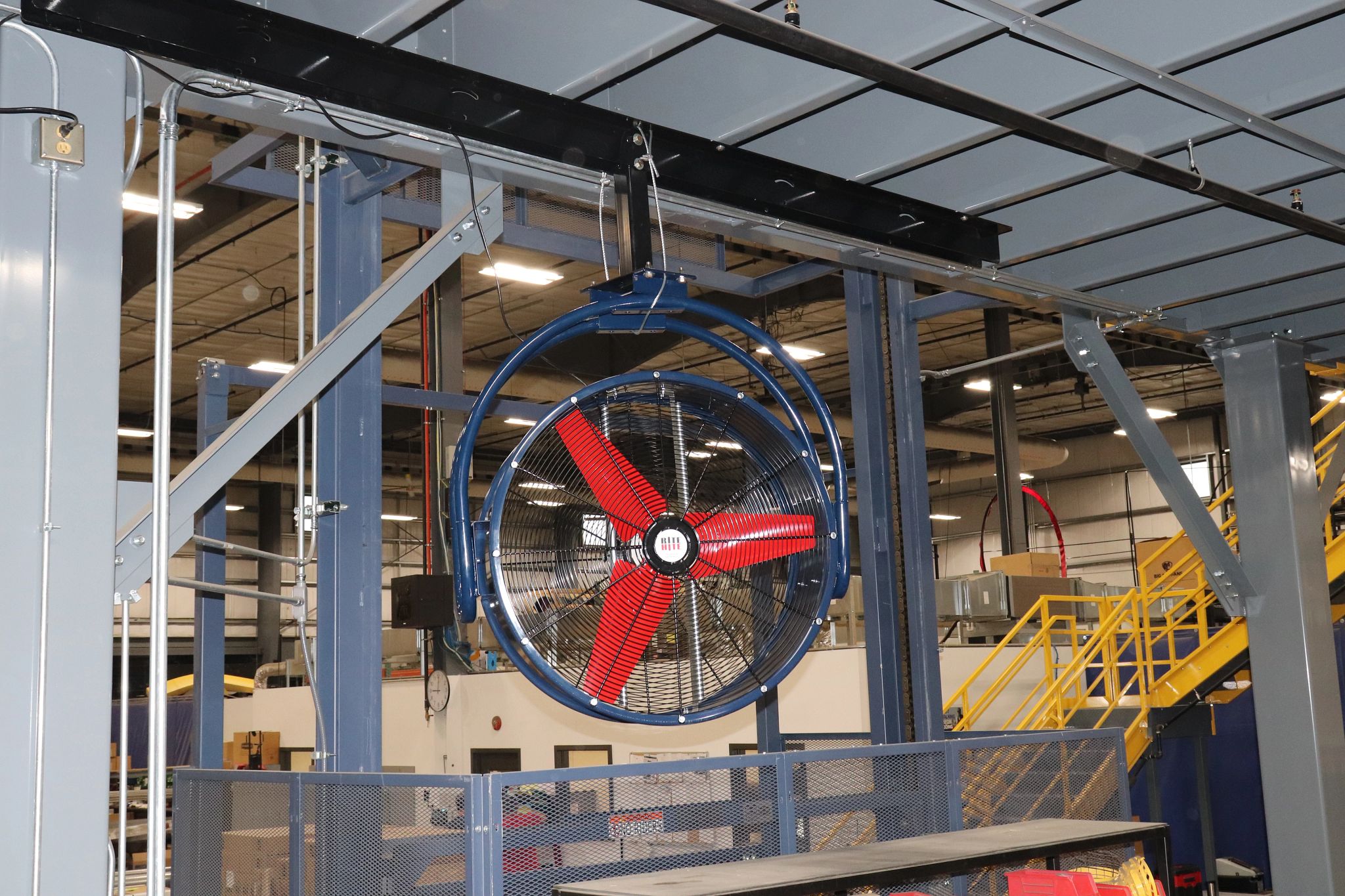 Why High-Volume, High-Speed Fans?
Our portable high-volume, high-speed (HVHS) fans can help solve your air movement problem and improve productivity by reducing effective temperatures of the working environment in your warehouse quickly. Additionally, our application engineers are trained to use strategic planning to apply HVHS fans in a way that will maximize performance and airflow in your facility, while giving you the year-round comfort and results you desire.
Benefits
You may have heard that HVLS ceiling fans have reduced the demand for traditional floor fans. It's true that HVLS fans have had a tremendous impact on maximizing airflow in facilities across the country; however, our experience says the best application is often a combination of both HVHS and HVLS. The combination of both fan types is something our application engineers do often, but there are also cases where larger industrial ceiling fans like HVLS models won't fit. Whether it's a low ceiling, a pick module, a mezzanine, a rack aisle, near cranes or other obstructions, you just might not be able to accommodate a larger fan. These sorts of situations call for the use of Rite-Hite's feature-heavy portable industrial fans.
Available as a Portable Floor Fan, Portable Floor Fan with 90° Tilt, and Ceiling Column Mount with 90° Tilt and 360° Swivel
Belt drive and direct drive motors available for quiet, lower decibel operation
2 mph air movement up to 90' away
Convenient single speed operation
Available in three styles, Rite-Hite's portable HVHS industrial fans are perfect for areas that need to be cooled off quickly:
Warehouses
Assembly and production lines
Loading docks
Machine shops
Bakeries
Laundries
Gymnasiums
Auto repair facilities
And more!
Durable 18-22-gauge steel barrel, with polyester powder coat blue finish
Available in 36" and 48" diameters
Red 3-bladed direct drive motor or 4-bladed belt drive motor (depending on model/size)
Electrical plug-in design, with 10' grounded 3 conductor cord
115-volt, 60 hertz, single phase, single speed motor.220-volt, 50 hertz available in 48" portable floor model only).
1-year parts and labor
Need more info?
Fill out the form below and one of our reps will reach out to you.
improving industrial safety, security and productivity worldwide THROUGH QUALITY AND INNOVATION

WANT MORE INFORMATION?
Fill out the form below and one of our reps will reach out to you.
Thank you for filling in the form.
Someone from our team will be in touch with you shortly.