BugShield Sliding Screen
Strong, vinyl coated mesh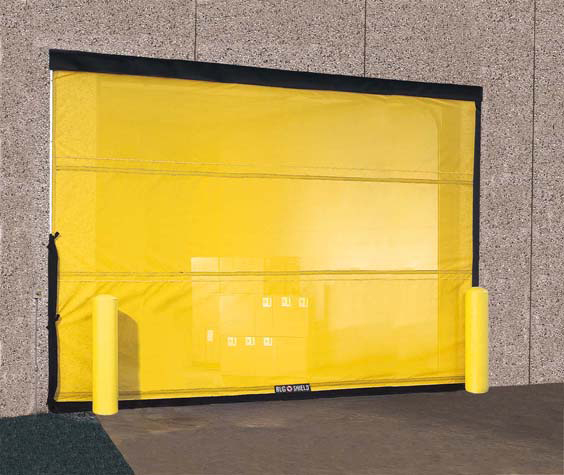 Shield your operation from unwanted intruders
The BugShield Sliding Industrial Door is a mesh, screen door designed to block the infiltration of pests into a facility. It is available in a convenient sliding model for wider door-ways.
Benefits
Curtain Material: Heavy-duty vinyl coated mesh, 17 x 11 weave, .025" thread diameter. Available in safety yellow, red, blue and gray. Optional 12 x 8 weave, .028" thread diameter available in black.
Track and Trolleys: Galvanized steel track and mounting hardware is standard. Trolleys have 1 inch nylon wheels that are spaced every 12".
Drive System: Manual operation is accomplished by sliding the curtain in the trolley and track system.
Seals: Water resistant Hypalon® seals at top and bottom. Nose seal further protects opening.
Temperature Range: -40° F to 150° F (-40° C to 65° C)
Warranty: Limited 1 year parts and labor. Rite-Hite Doors also offers an exclusive 1 year money back guarantee.
Allow fresh air in for comfort and productivity.
Enable light to enter the work area.
Deter theft and vandalism.
Door opens horizontally and is a visual barrier at the opening.
Minimum size: 14' x 15' (4267 mm x 4572 mm)
Maximum size: 20' x 18' (6096 mm x 5486 mm)
Need more info?
Fill out the form below and one of our reps will reach out to you.
improving industrial safety, security and productivity worldwide THROUGH QUALITY AND INNOVATION

WANT MORE INFORMATION?
Fill out the form below and one of our reps will reach out to you.
Thank you for filling in the form.
Someone from our team will be in touch with you shortly.