RHE-300 Edge-O-Dock Hydraulic
Powered solution for non-pit style applications
Simple two-button hydraulic controls
High strength low-alloy steel construction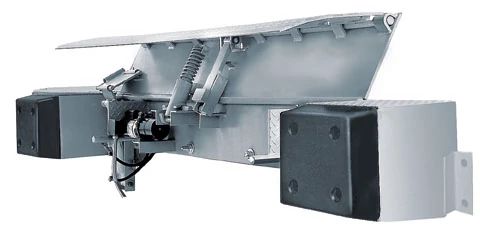 RHE-300 EOD Hydraulic
Hydraulic Edge of Dock Levelers offer a budget-friendly option for facilities that service vehicles with limited variation in vehicle heights. The hydraulic controls make operation fast and efficient, while its pit-free design helps decrease installation time, limit points of entry, and prevent pest and contaminant infiltration.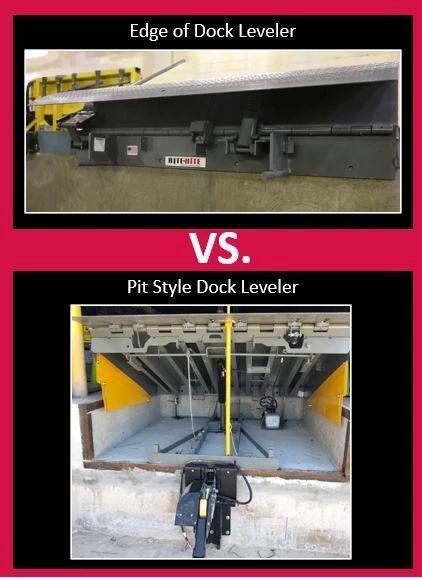 To bridge the gap between warehouse floor and trailer beds, facilities will commonly use either pit style dock levelers or edge of dock levelers. The objective of these products is the same: create a safe and smooth transition between the trailer bed and dock.
Learn About The Differences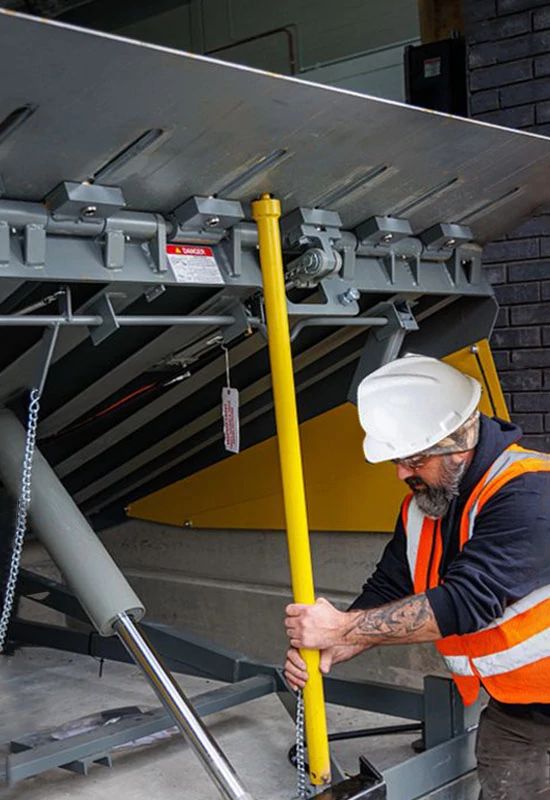 Safe-T-Strut
Rite-Hite's Safe-T-Strut™ system offers a central through-the lip-design that solidly supports both the leveler and lip through the entire operating range, helping to prevent dock leveler collapse during maintenance and helping to protect personnel underneath. It is certified to withstand forklift impacts up to 4 mph and helps to comply with OSHA lockout/tagout regulations.
Learn More
Benefits
Hydraulic Edge of Dock levelers are constructed with high strength low-alloy steel for increased durability. They offer an easy push-button operation solution with the ability to convert back to mechanical if need be.
No Downtime as they are shipped to function mechanically until the Hydraulic Conversion kit and Controls are installed
Hydraulic Control Box has simple Power-up/Power-down button operation for leveler and lip positioning, helping provide increased control and safety
Dok-Commander Combination Control Panel (option) gives the ability to integrate the hydraulic controls with all other Rite-Hite loading dock equipment controls: vehicle restraint, light communication, doors, and more
Maintenance Strut doubles as an operating handle and can now be used as such for routine maintenance
RHE-300 Edge-O-Dock levelers are a budget-friendly solution for facilities with little variety in the vehicles serviced. Installed on the face of the loading dock, an edge of dock leveler does not require a pit, which keeps installation scope and cost to a minimum. The absence of a pit also makes cleaning up quick and easy.
No Pit Necessary with a hydraulic edge of dock leveler, which helps decrease installation time and prevent pest and contaminant infiltration
Grease Fittings help improve leveler operation while reducing maintenance needs and cost
Operating Handle doubles as a functioning maintenance strut for enhanced personnel protection during maintenance, while eliminating additional equipment purchases
Rite-Hite warranties are backed by a exclusive network of representatives and industry leading planned maintenance programs, helping to ensure that products perform to their full potential.
12-Month Limited Money-Back Guarantee of Customer Satisfaction.
1-Year Parts & Labor.
90-Days Molded Bumper Warranty.
Need more info?
Fill out the form below and one of our reps will reach out to you.
improving industrial safety, security and productivity worldwide THROUGH QUALITY AND INNOVATION

WANT MORE INFORMATION?
Fill out the form below and one of our reps will reach out to you.
Thank you for filling in the form.
Someone from our team will be in touch with you shortly.