Revolution
Propell-Aire aluminum blades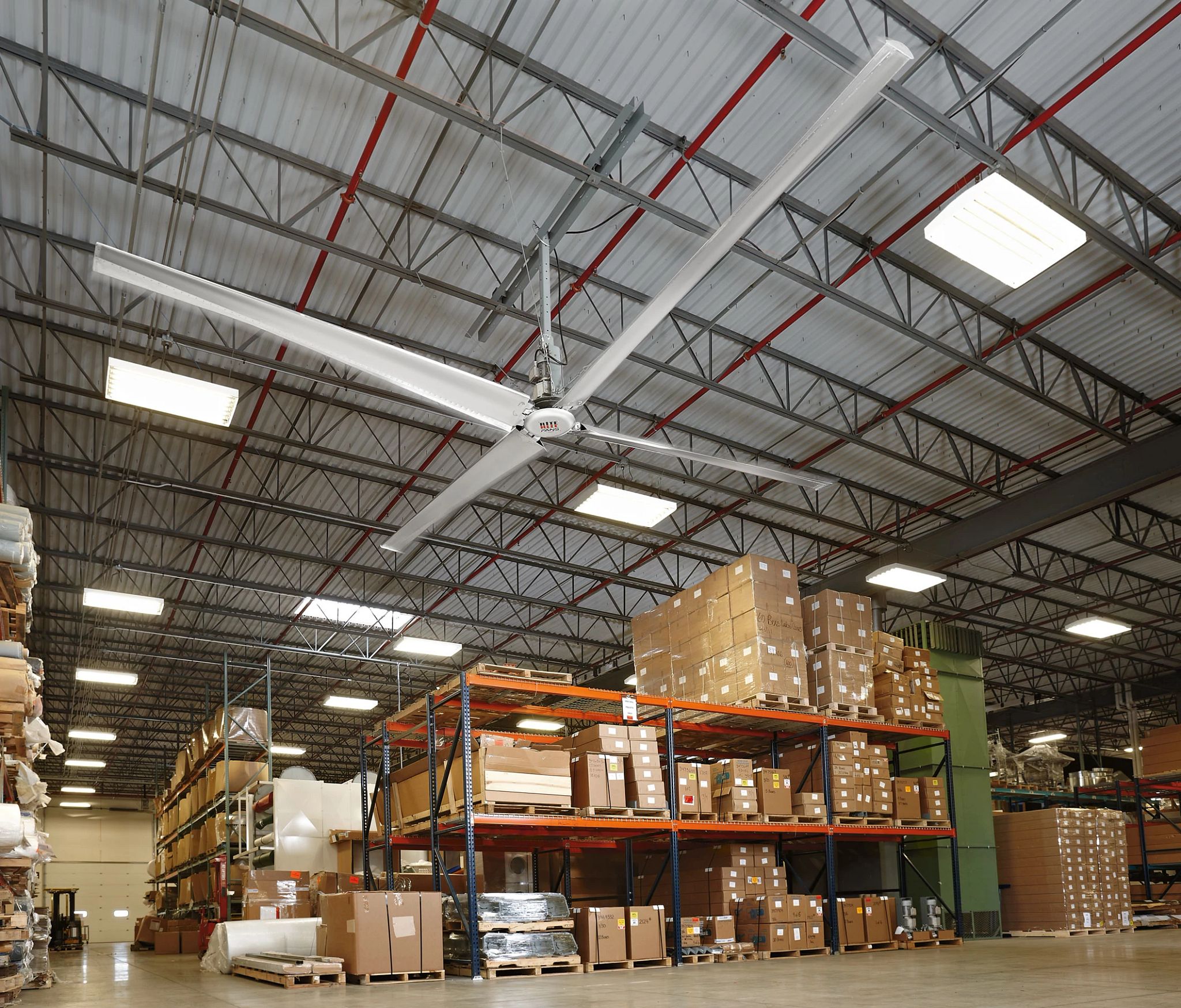 Massive Air Movement for Comfort and Productivity
Installing large industrial fans like the Revolution is a simple upgrade for any existing facility and a smart choice for a new building. It creates a comfortable, productive environment for work, play, learning and living around the world.
Contact Your Local Rep
Help Maximize Efficiency with the Revolution HVLS Fan
The Revolution® is Rite-Hite's original High Volume, Low Speed (HVLS) Fan and today's standard for low cost, high-efficiency climate control, delivering the most air movement of any HVLS fan on the market.
Contact Your Local Rep
Benefits
Available in 8' (2440 mm), 12' (3660 mm), 16' (4880 mm), 20' (6100 mm) and 24' (7320 mm) diameters
Improve productivity by providing evaporative cooling
Exclusive Propell-Aire™ aluminum blades with Vortex Tips incorporate tilt, taper, and twist to produce consistent airflow across the entire length of the blade, eliminating pockets of stagnant air under the center of the fan
Covers 31,000 sq. ft., moving air up to 100 ft. in all directions from the center of the fan
Precision-milled aluminum hub and bolt
The blade and hub are balanced for smooth, efficient performance
Maximum weight is 250 lbs. Actual weight varies according to the fan size and mounting style
Backed by Rite-Hite's 50-year track record as an industrial manufacturer
Custom colors and logos are available
Touch screen WiFi controls are customizable to a 7-day schedule with the ability to automatically adjust fan speed based on temperature (optional sensor required).
Standard Ethernet connectivity allows remote access to controls and can also integrate with a building management system.
All fans feature a three-way motor-to-hub safety connection, as well as stabilizing cables, a beam clamp and motor housing
A unique safety ring is provided for back-up security for the motor to hub connection. Each hub "blade arm" is connected to the safety
Rite-Hite's Revolution HVLS fans can be seen in a wide range of facilities across a variety of industries:
Agriculture
Airports
Arenas
Athletic Facilities
Convention Centers
Distribution Centers
Health Clubs
Manufacturing Facilities
Restaurants
Retail
Schools/Universities
Stadiums
Warehouses
Hundreds of Other Applications
3 year parts & 3 year labor warranty
10 year structural integrity warranty
Lifetime warranty on workmanship of blades and interlocking fan arms
12 month limited money-back guarantee
Need more info?
Fill out the form below and one of our reps will reach out to you.
improving industrial safety, security and productivity worldwide THROUGH QUALITY AND INNOVATION

WANT MORE INFORMATION?
Fill out the form below and one of our reps will reach out to you.
Thank you for filling in the form.
Someone from our team will be in touch with you shortly.