LiteSpeed Wash Down
Meets USDA & FDA standards
Speeds up to 65" per second (1.6 m/sec)
Rite-Hite's LiteSpeed® Washdown takes the concept of the general duty industrial door and raises all the standards. Features focus on performance, reliability and simplicity – fewer moving parts than competitive doors. High-speed doors are also a key component for maintaining cleanliness in the food industry.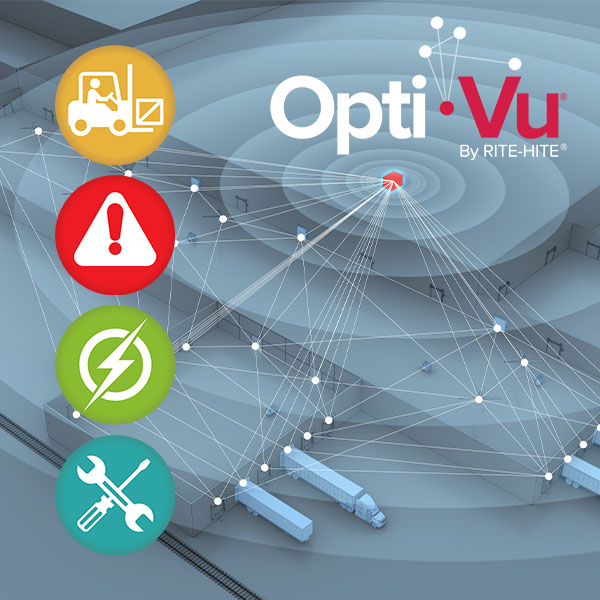 Opti-Vu IIoT Platform
Improve productivity, proactively increase safety, control energy consumption and enhance asset management with the interactive tool that allows you to make data-informed decisions for your facility.
Learn More
Benefits
New food industry-specific variations have been developed that meet U.S. Department of Agriculture (USDA) and U.S. Food and Drug Administration (FDA) standards for cleaning. The tough PVC vinyl curtain is completely heat sealed and made to and exceeds USDA, FDA and cGMP standards.
Stainless steel components and hardware allow the walls to hold up to wet and harsh conditions that occur when production equipment is cleaned as part of Hazard Analysis Critical Control Points (HACCP) best practices protocol.
Cleaner overall application experience with recessed control options available to have next to the door opening.
No coil cords or wires in or around any part of the fabric door opening.
The exclusive soft bottom edge delivers a higher level of safety and protection for personnel and equipment.
The compact side frames and header create a smaller footprint for a wider view and cleaner looking installation.
Fewer moving parts- Which means less downtime and less maintenance, providing the most reliable door to keep your environments clean.
Maintain cleanliness with a hands-off approach to entering and exiting a clean room by pairing the LiteSpeed Wash Down door with an infrared or laser door sensor. Ask your rep about available sensor options.
Need more info?
Fill out the form below and one of our reps will reach out to you.
improving industrial safety, security and productivity worldwide THROUGH QUALITY AND INNOVATION

WANT MORE INFORMATION?
Fill out the form below and one of our reps will reach out to you.
Thank you for filling in the form.
Someone from our team will be in touch with you shortly.