TS-5000 Trailer Stabilizer
Helps prevent accidents due to landing gear collapse
The TS-5000 Trailer Stabilizer acts as back up to existing landing gear support. Seldom used or rusted landing gear may collapse under extreme weight conditions. When the trailer stabilizer is positioned snug under a spotted semi-trailer at the loading dock, it will support a static load capacity up to 140,000 lbs.! The extra wide top plate (66") and twin vertical supports will help absorb momentum caused from landing gear collapse and help minimize the trailer nose from dropping or tipping.
Extra support for heavy and uneven loads
When fork trucks load at the front of trailers, the trailer can become nose heavy and tip. Uneven and heavy loads placed at the front of trailers can also cause the trailer nose to tip. The TS-5000 Trailer Stabilizer can help prevent trailer up-ending and trailer tip-over.

Support 65% of the trailer width
The 66" top plate of the TS-5000 covers 65% of the total trailer width (102") and more than half of a 48" pallet loaded snug to one side of a trailer. This extra-wide top plate provides safe and secure support, especially for uneven loads when there is a greater risk of trailer tip-over.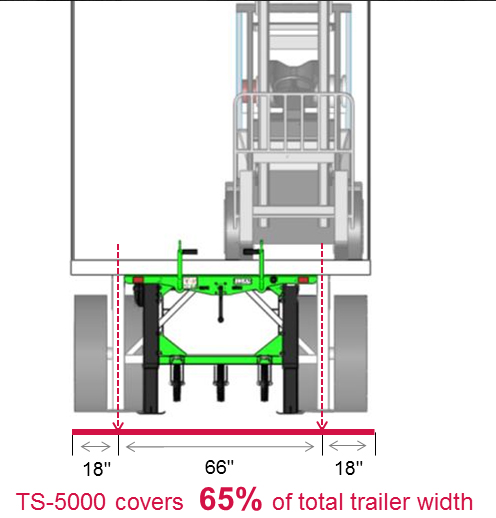 Addresses Industry Standards
OSHA Regulation 1910.178: Fixed jacks may be necessary to support a semi-trailer and prevent upending during loading or unloading when the trailer is not coupled to a tractor.
TTMA Technical Bulletin No. 57: It is recommended that an adequate stabilizing device or devices be employed at the front of the trailer in all cases where a trailer is being loaded or unloaded.
AIAG 3.3.6 Shipping and Receiving Handbook: Trailer jacks are required for "spotted" trailers to provide support in the event of landing gear failure.
Ideal Applications
Servicing heavy loads (Paper, Glass, Beverage, Automotive, Food and Packaged Liquids)
Servicing uneven loads or have uneven drive approaches
Easy Operation
Always ready-to-use crank (2 crank turns per inch of travel)
Gear mechanism can be released even when downward pressure is applied from the trailer
Ergonomic positioning handles with multiple grip points
Unit does not need to be tilted for proper placement
(3) 13" rubber wheels make the unit easy to move and operate
Optional communication flag identifies when unit is properly positioned
Handles act as a stop to prevent unit from getting pushed too far under trailer
Trailer Stabilizer Features
Static load capacity: Rated for 70 tons static load (140,000 lbs./63,500 kg)
Operating range: 40" (1016 mm) to 56" (1422 mm)
Unit can be field adjusted to accommodate most commonly used trailer heights
Weight: 435 lbs. (198 kg)
Top plate (1) : 12" x 66" (304 mm x 1676 mm)
Base plates (2) : 10" x 16" each (254 mm x 406 mm)
Tires (3) : 13" (330 mm)
Multiple units can nest for storage
3-year warranty
improving industrial safety, security and productivity worldwide THROUGH QUALITY AND INNOVATION