RHVJ-5000 Jumbo™ Vertical Storing
Ideal for full-width trailer access
Complete environmental control with drive-thru design
Smooth Transition Dok System®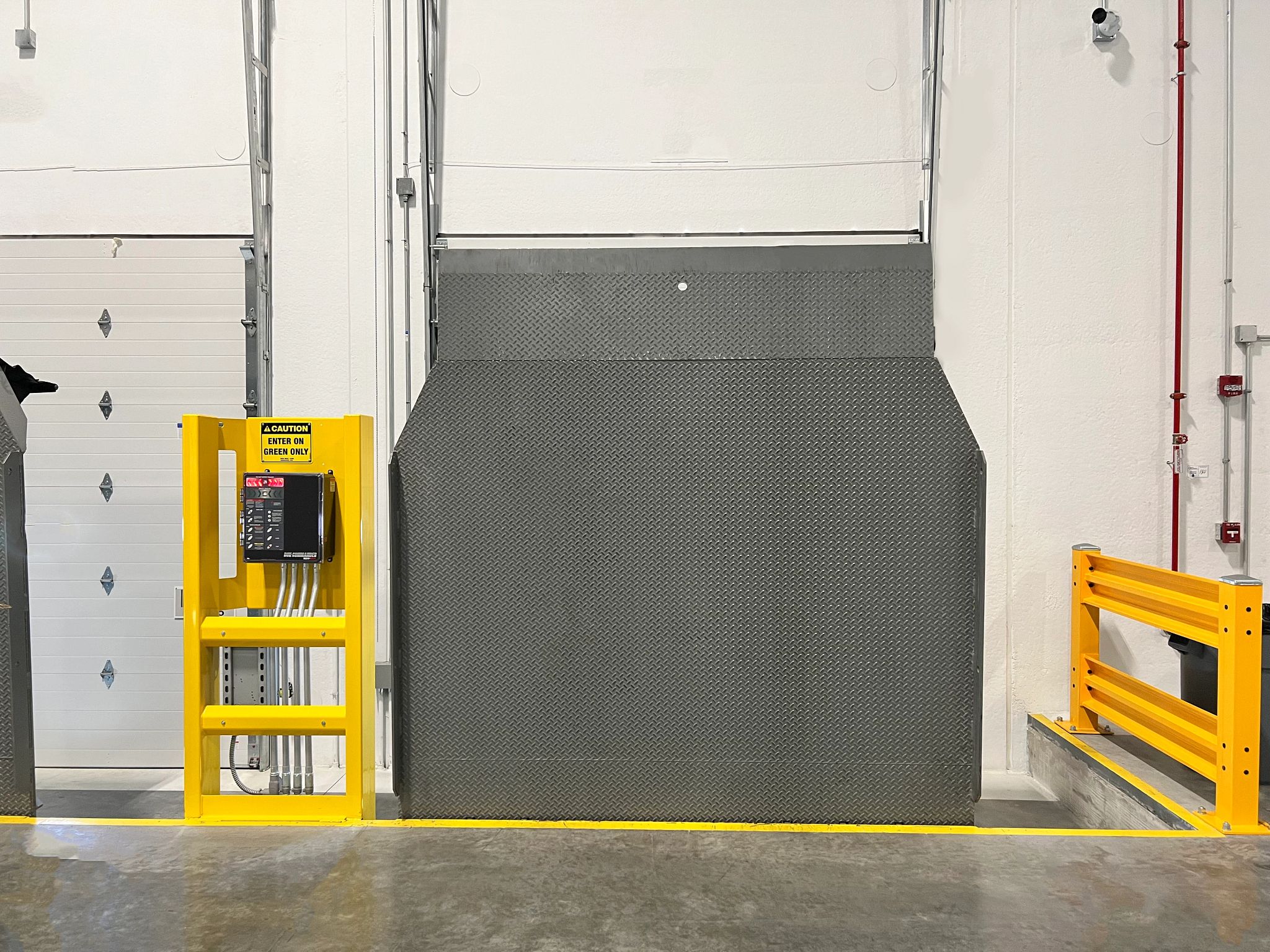 Rite-Hite's RHVJ-5000 Jumbo Vertical Storing Hydraulic Dock Leveler helps provide full-width trailer access during the loading and unloading process, while also allowing for complete environmental control as the overhead door closes completely to the warehouse floor when the leveler is in the stored position.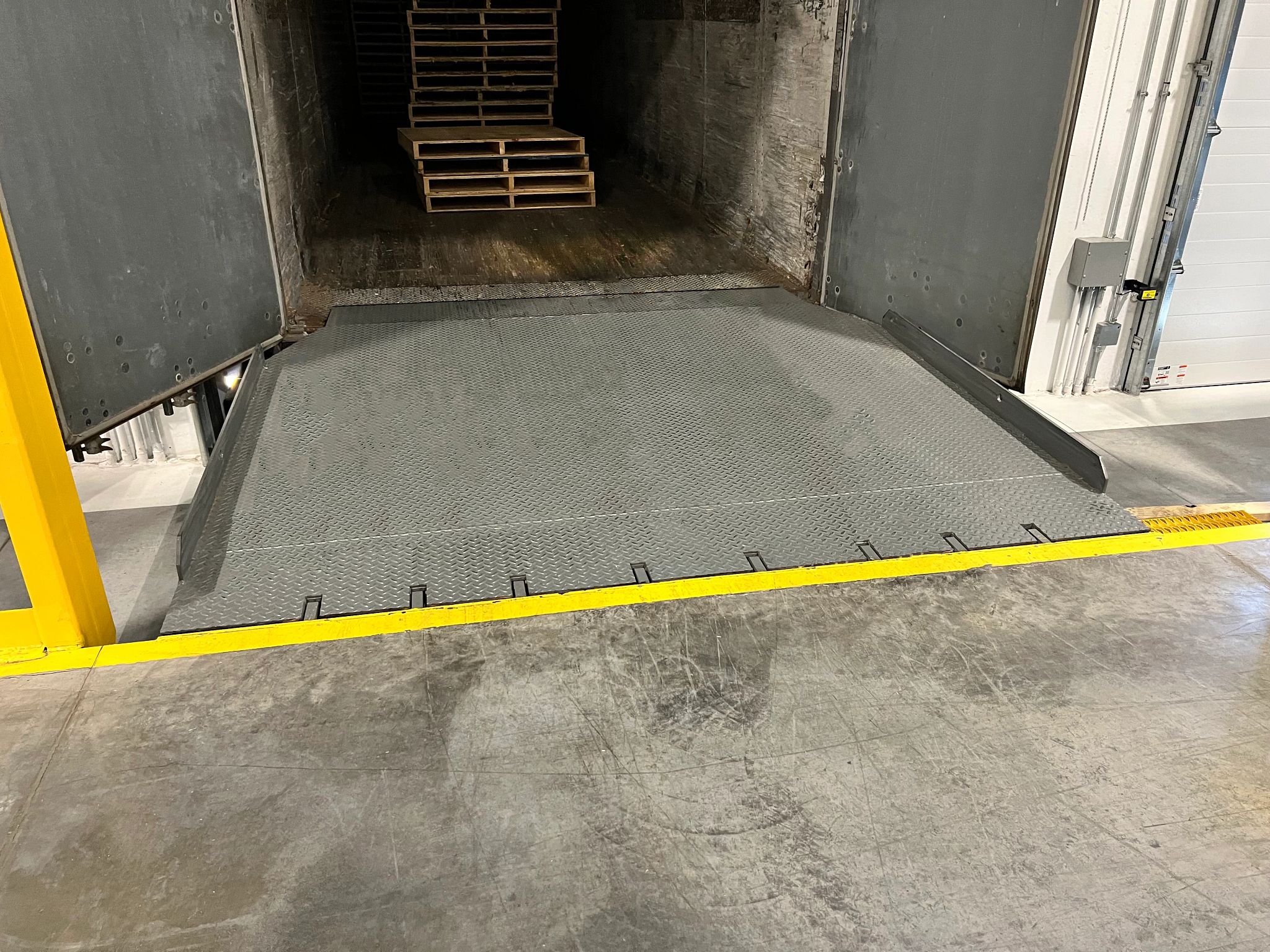 Unparalleled End-Load Access
The 102" wide leveler deck, with one-piece tapered platform, provides unparalleled, full-width, load access to all load configurations.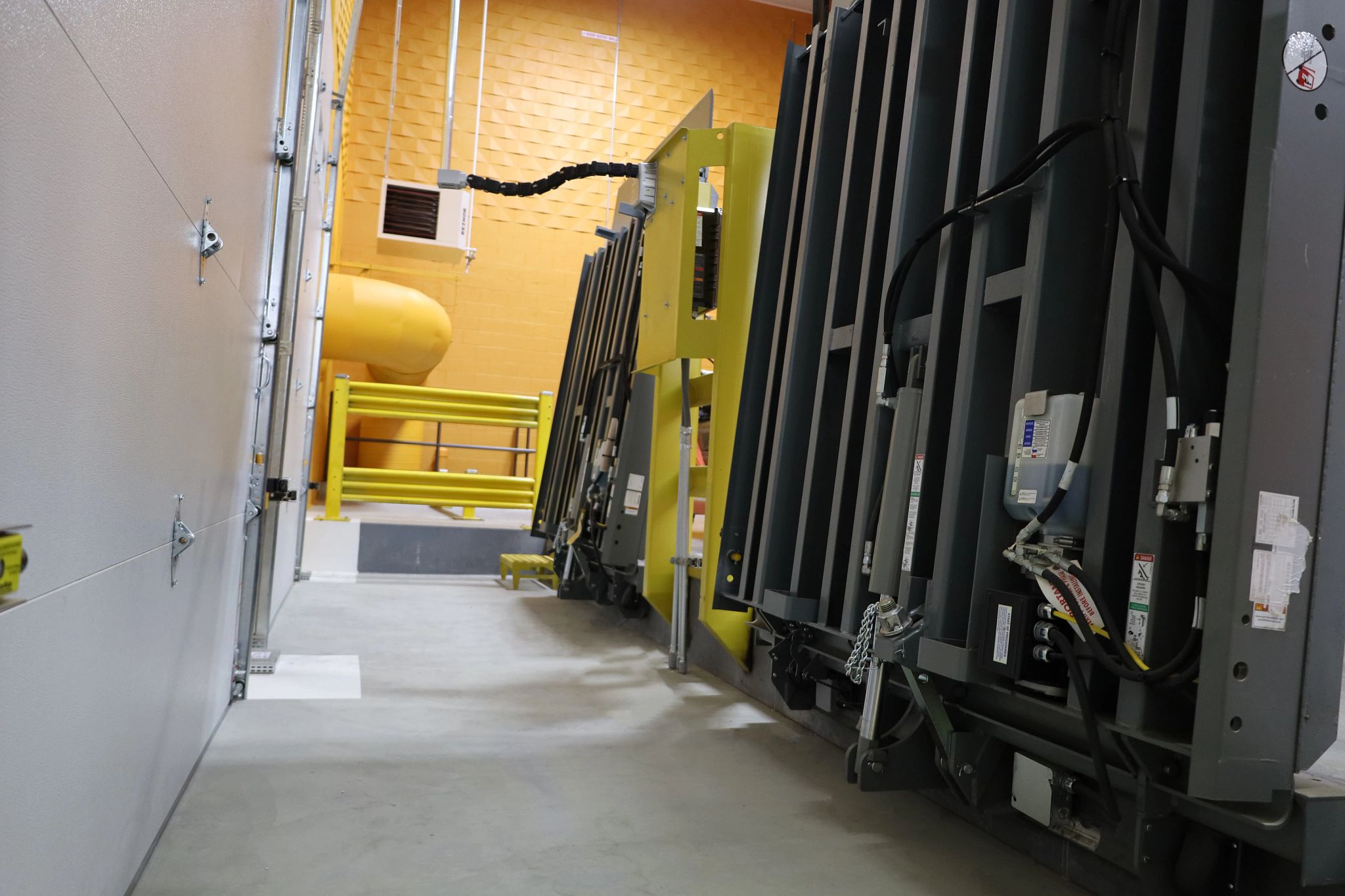 Safe-T-Pit: Pedestrian Safety
Safety is Rite-Hite's number one priority. One area that may be overlooked is the pit of vertical storing levelers. Vertical Storing Levelers come with optional Safe-T-Pit®, which keeps the operator at the control panel until the leveler is securely positioned in the trailer bed. If sensors detect any movement in the leveler pit, operation will be disabled until the area has been cleared, adding an additional layer of pedestrian safety.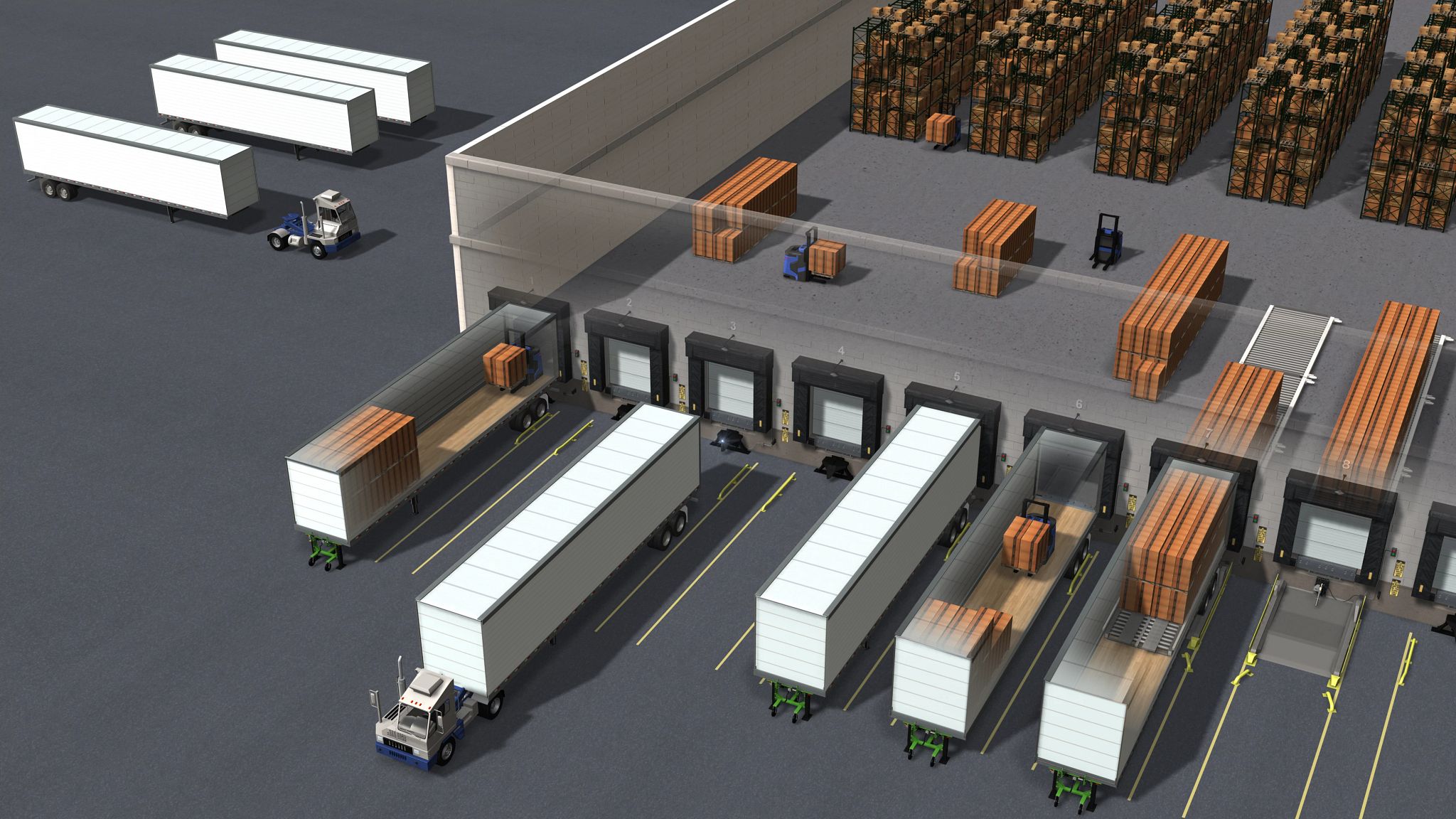 Loading Dock Automation Solutions
Let Rite-Hite help bring your automation project to a successful completion as partner of choice in loading dock design, loading dock equipment, and controls applications.
Learn More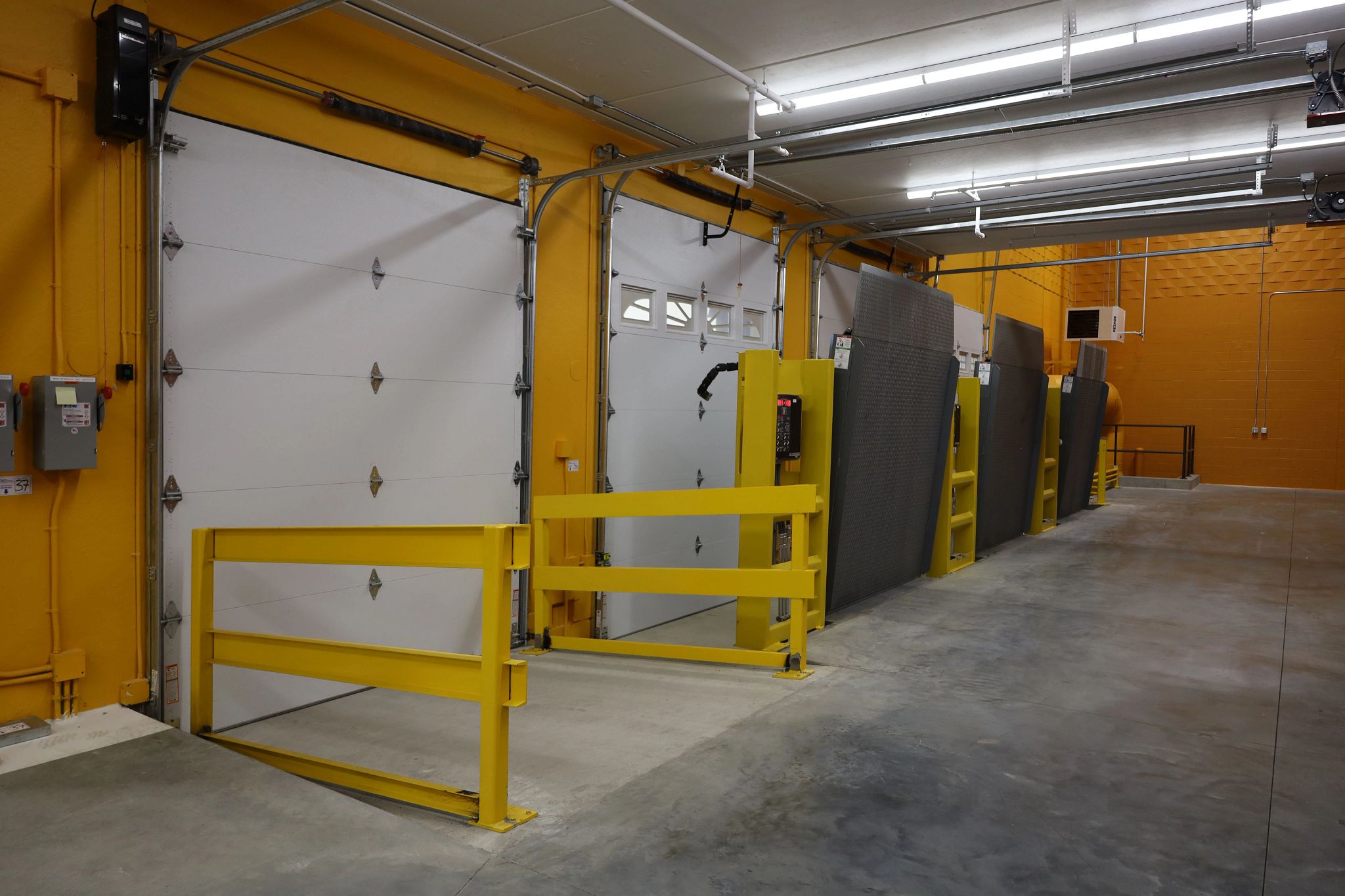 Drive-Thru Approach
OSHA has identified semi-tractor trailers as the second leading cause of back over fatalities in the United States. Loading docks equipped for a drive-thru approach allow trailer doors to open inside the facility; helping prevent fatalities by keeping boots off the ground. This also helps increase supply chain integrity and security, as the seals are also broken and reapplied inside the building.
MAXIMIZE THE INTEGRITY OF YOUR SUPPLY CHAIN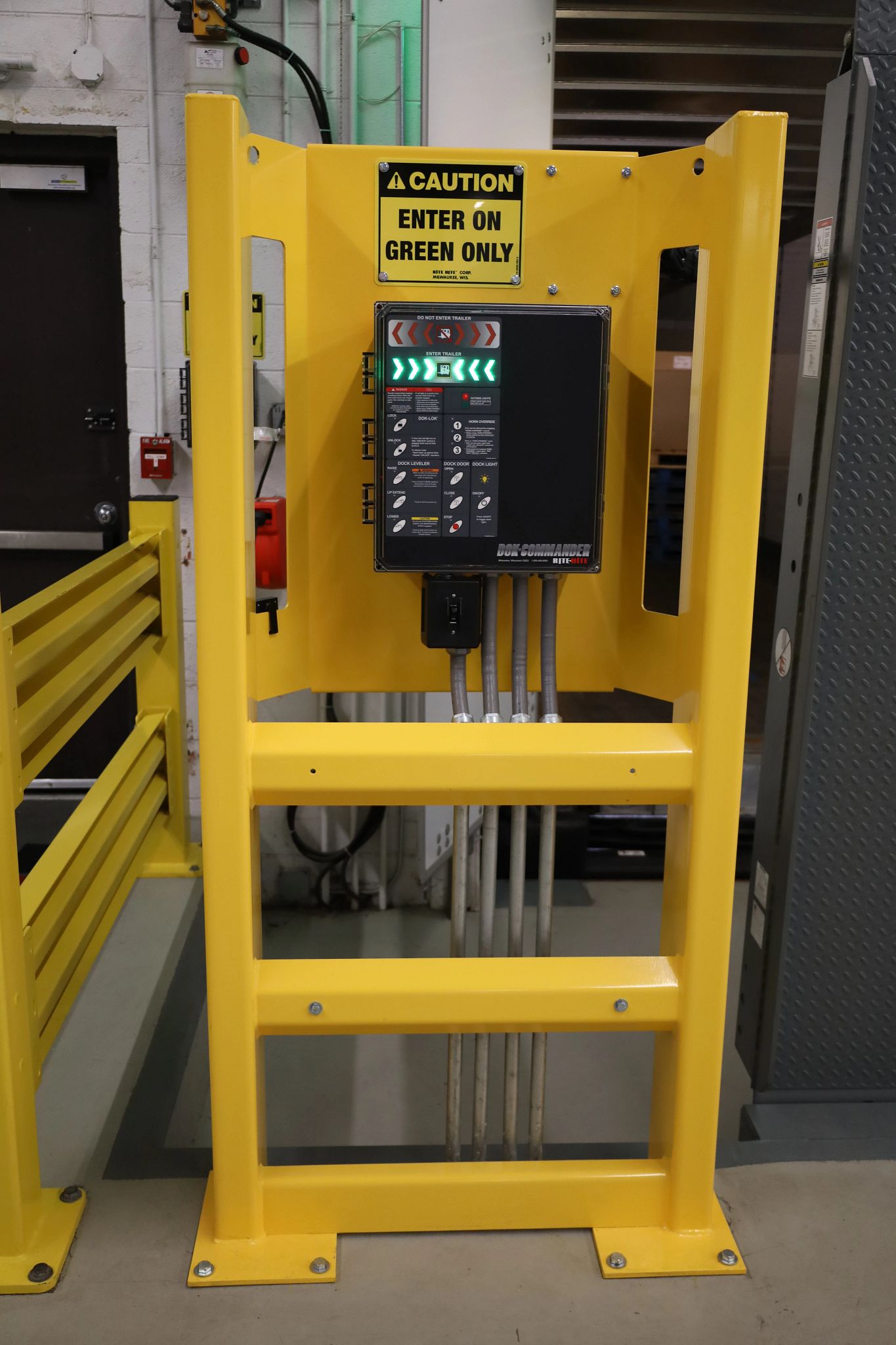 RHV Mast: Combination Controls
Simple centralized panel integrates the controls of multiple pieces of operating equipment: including a Dok-Lok® vehicle restraint, dock leveler, dock door, dock light and Rite-Vu™ Hazard Recognition and Communication System. The location alongside the vertical dock leveler helps remove wall clutter, keeps the operator safely at the control panel for all equipment operation, and is programmable to provide safe, sequential operation.
Learn More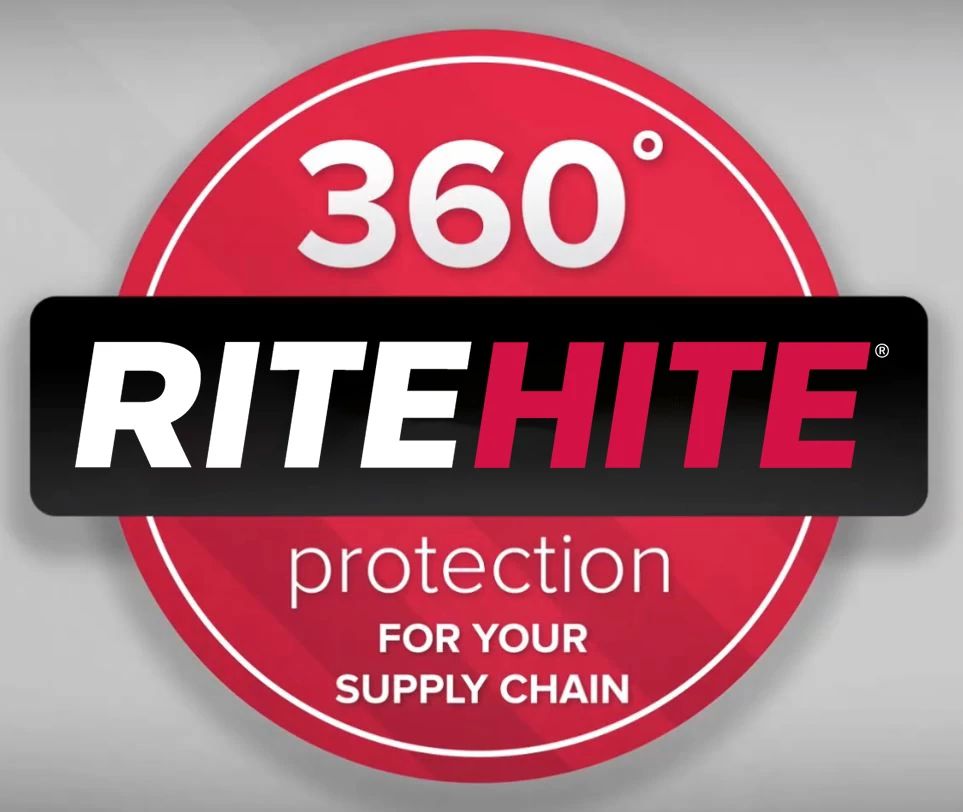 Protect Your Supply Chain
Green light from the light communication system, signals to driver when it is safe to backup
Approach-Vu

™

alerts personnel, on the drive approach, that a trailer is backing up
Trailer doors remain closed until truck in is in position
PitMaster™ V under-leveler seal and Eclipse® Dock Shelter give a complete 4-sided seal
Trailer is secured with a Dok-Lok® Vehicle Restraint
Lok-Vu® visually communicates that the restraint is engaged with the trailer
Vertical Storing Dock Leveler is lowered to transfer materials
Many forklift operators travel across conventional dock levelers more than 100,000 times each year. With each pass they experience an unpleasant jarring effect created by the bumps and gaps that exist in outdated leveler designs – so does their equipment and the product being transported. Also known as dock shock or whole body vibration, these vibrations can lead to chronic back and neck injuries, product spills, and equipment repair costs.

These conditions can be reduced or eliminated with a Smooth Transition Dok System™ design.
Learn more about Dock Shock
Benefits
Rite-Hite's unique Jumbo Vertical Storing leveler paired with Drive-Thru loading dock design allows trailer doors to open inside facility with full-width access to the trailer, helping maintain control (cold chain integrity), safety, and security. Ideal for, not limited to, food, beverage, and cold storage facilities.
102" wide leveler deck, with one-piece tapered platform, provides unparalleled, full-width, load access to all load configurations.
Overhead doors close all the way to the pit floor, completely sealing door opening when dock is not in use.
Debris and Pest Prevention: Drive-thru applications with the aid of weatherseal, shelters, and under-leveler seals help block dust, debris, and pests from entering, ensuring clean and sterile environments.
Boots off the Ground means personnel spend less time going in and out of the facility, onto the drive approach. In a drive-thru application, employees stay safely inside the building and focus their time on the loading and unloading process.
Positioned leveler, paired with an under-leveler seal and drive-thru filler pads, helps provide complete 4-sided contamination protection, blocking white light around the loading dock. Leveler acts as a visible barrier to dock area when stored and provides protection for the Overhead Door.
Unique structural engineering stands firm under extreme warehouse demands to lower repair and maintenance costs, while increasing product lifespan.
Ownership costs over the lifetime of a Hydraulic dock leveler are significantly lower; compared with a mechanical leveler's maintenance costs, which are on average 6 times higher than that of a hydraulic leveler.
Four-sided rectangular box construction includes interlocking and welded stringers to create a stronger bond, increase overall strength and help limit lifetime maintenance downtime issues.
Dual Tilt-back Mechanisms positions the leveler over center, protecting the hydraulic cylinder from over extension and reduces stress on the rear hinge to help prolong equipment life.
Hydraulic Counterbalance Valve allows leveler to float with trailer movement – helping provide safety and stability when lowering the leveler.
Help prevent employees acute and chronic injuries, equipment repair or replacement, and product damage – all caused by dock shock.
Radius rear hinge helps reduce dock shock by keeping the space between leveler deck and rear weldment within 1/2" gap.
Two-point crown control dually reinforces the front hinge to help reduce the lip crown "speed bump".
Extended lip chamfer helps reduce the impact felt when transitioning from the leveler lip to the trailer bed.
I-Beam stringers, plus two additional outside supports, increases deck strength, helping prevent leveler lip pop-up and the jarring impacts caused by a hazardous gap; especially when exiting.
Reduce "Dock Shock" by 16% when use a Smooth Transition Dok System; by 50% when paired with modern forklift design.
Vertical storing position helps to increase the efficiency and safety during routine maintenance.
Safe-T-Pit™ disables leveler operation when movement is detected in the pit. The Interlocked Controls will not allow leveler operation to resume until the pit is cleared and the operator is safely at the control panel.
Maintenance pin and vertical upright storing helps create a safer routine service environment with easy access for pit cleaning and optional full wash-down capability with remote power.
Rear hinge design has easy access greaseable stainless steel hinge pins.
Constant-contact controls allow the operator to extend lip or stop platform and lip at any time during leveler travel – keeping the operator safely at the control panel at all times.
Access brace comes standard on all continuous pit applications for added pedestrian safety.
Non-Adjustable Velocity Fuse helps stop rapid leveler descent with a heavy load on the platform; providing ultimate free-fall protection.
Rite-Hite warranties are backed by an exclusive network of representatives and industry leading planned maintenance programs, helping to ensure that products perform to their full potential.
Up to 20-Year Money Back Warranty Based on the Dock Leveler Investment Guide.
5-Year Parts and 1-Year Labor.
12-Month Limited Money-Back Guarantee of Customer Satisfaction.
Gallery
RHVJ-5000: Doors Open Inside Facility for Environmental Control
RHVJ-5000: Full-Width Trailer Access
RHVJ-5000: Continuous Pit for Drive-Thru Design
Need more info?
Fill out the form below and one of our reps will reach out to you.
improving industrial safety, security and productivity worldwide THROUGH QUALITY AND INNOVATION

WANT MORE INFORMATION?
Fill out the form below and one of our reps will reach out to you.
Thank you for filling in the form.
Someone from our team will be in touch with you shortly.