Insulated Warehouse Curtain Walls
Protect products and processes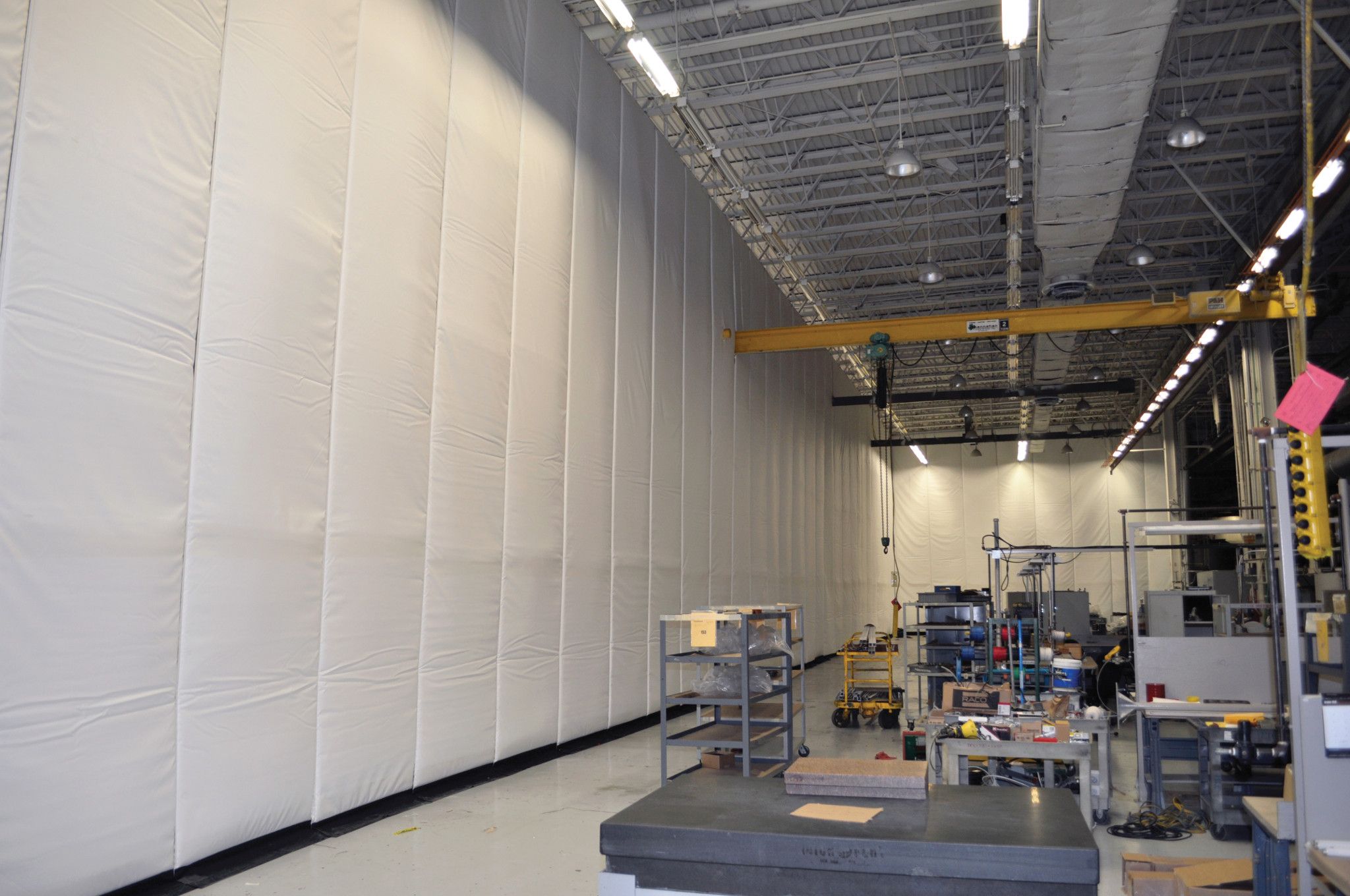 Industrial Curtains for Humidity Control
Rite-Hite's Industrial Curtain Walls by Zoneworks® are an affordable and effective way to separate areas that require humidity control and temperature regulation
TZ Insulated Curtain Walls
HOW HUMIDITY CONTROL CURTAINS WORK
Industrial curtain walls can be utilized to increase or lower humidity in designated spaces to protect products or processes. TZ Insulated Curtain Walls play an important role in maintaining temperatures when trying to control humidity as the two are closely related.
Creating a Low Humidity Space
TZ Insulated Fabric Walls are used to surround a space and control the air temperature, while a mechanical chiller is required to dehumidify, cool, and circulate the air within the space. The construction of fabric curtain walls makes them ideal for humidity control applications.
Outer vinyl covered surfaces are inherently waterproof
Internal insulation inhibits condensation from developing on exterior surface of the wall
Zoneworks® walls use an anti-microbial insulation to prevent mold or mildew should moisture manage to migrate inside the curtain through a tear or scrape
Maintaining a High Humidity Area
In creating a high humidity space, some source of moisture is added, whether it be misting sprinklers or the addition of high humidity air flow into the space. Yet from a curtain wall standpoint, the principles are the same. Industrial curtain wall features and their ability to main consistent temperatures makes them a great solution for humidity control.
INDUSTRIES SERVED
Zoneworks® Industrial Insulated Curtain Walls are an effective way to control humidity levels and are beneficial across industries.
Food Industry – Provides a cost-effective and energy-efficient solution for maintaining humidity levels for food storage to preserve freshness or to aid in the ripening process.
Manufacturing – Protect humidity sensitive machinery or processes, such as gluing or curing. Maintain low humidity for storage of uncoated machine parts or electronics to minimize oxidation (rusting).
Paper and packaging – Guard your paper and packaging products against the damaging effects of moisture.
FREQUENTLY ASKED QUESTIONS
What do I do if I have obstructions that need to pass through the curtain wall?
Wall penetrations are expected and are easily field cut on site and patch taped back together around the obstruction.
What level of temperature separation can I achieve using curtain walls?
Insulated curtain walls can provide temperature deltas up to 40°F (22°C). Curtain walls can be used to keep employees warm or cool in specified plant areas where treated air is needed, divide cooler/freezer space, and protect temperature-sensitive items or processes.
What happens if a fabric curtain wall is ripped or torn?
Should a fabric wall be ripped or torn, simply use our clear patch tape to pull the material back together and cover over the tear. Within 24 hours, the tape will actually cure to the vinyl fabric and you will never know it has been torn. Should an entire panel need to be replaced, simply refer to the project specific drawings provided with each job and reference the number of the panel that needs to be replaced and we will ship it within 24 to 48 hours.
Need more info?
Fill out the form below and one of our reps will reach out to you.
improving industrial safety, security and productivity worldwide THROUGH QUALITY AND INNOVATION

WANT MORE INFORMATION?
Fill out the form below and one of our reps will reach out to you.
Thank you for filling in the form.
Someone from our team will be in touch with you shortly.