FLEX NECK LED LOADING DOCK LIGHT
175,200 hours (20 years) service life
6 CREE LED's, 18 watts, 925 lumens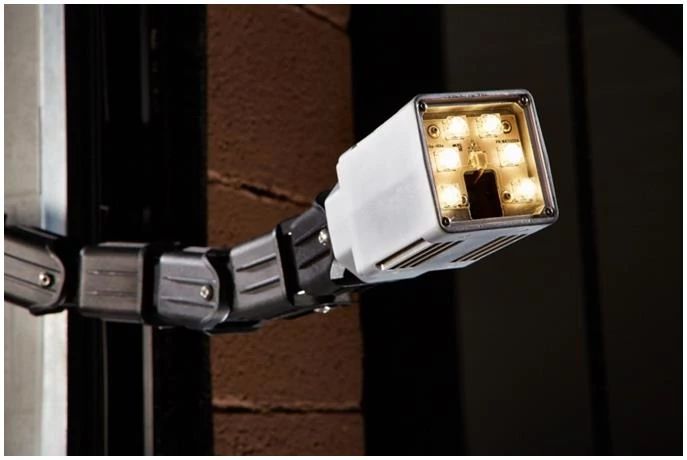 The newest innovation in loading dock light technology, the Rite-Lite™ Flex Neck LED dock light offers enhanced flexibility and adjustability when lighting a trailer or container at the loading dock.
Benefits
Manual Light Control
Four different settings with visual indicators to clearly identify the current level of lighting, allowing users to select the desired level of light output.
Motion Sensing Technology
This optional feature senses when a forklift or person is leaving a trailer and automatically dims the light to 25% output, restoring to full power after a few seconds.
When the light has been on for 30 minutes or more, with no loading activity, an auto-dimming feature reduces the light output to its lowest setting.
The design incorporates an aluminum-cast, impact-resistant head, and six CREE® LED lights that consume just 18 watts of energy while outputting 925 lumens. The light is rated for 175,200 hours (20 years) of service life, which includes LED's, driver, and all electrical components. CREE LED lights offer some of the latest technology for providing the best light possible. Made from molded nylon
Made from molded nylon.
Multi-articulating arm allows for multiple bend points.
Won't droop or take a set.
Each link arm can be tightened, if necessary, to eliminate the sagging that often occurs with traditional metal snake arms.
More flexibility helps maneuver around door tracks, etc.
Low profile no-glass head reduces chance of impact/damage.
CREE LED's – Made in the USA.
18 watts, 925 lumens, 175,200 hours service life.
Includes LED, driver, and all electrical components.
UL/cUL Listed. CE Certified. IP55 Rated.
Need more info?
Fill out the form below and one of our reps will reach out to you.
improving industrial safety, security and productivity worldwide THROUGH QUALITY AND INNOVATION

WANT MORE INFORMATION?
Fill out the form below and one of our reps will reach out to you.
Thank you for filling in the form.
Someone from our team will be in touch with you shortly.