Choose the right HVLS fan to maximize airflow
HVLS Fans move massive amounts of air to help keep your workers comfortable and productive. These fans gently move air at an optimized speed over people, so they stay cool and productive in the summer. In the wintertime, the same fan keeps everyone comfortable by pushing the warm air trapped at the ceiling, down where it's needed.
Our direct drive fans, the Revolution 75 Series and the Revolution 25 Series, offer a new spin on our traditional, geared motor Revolution® HVLS Fans.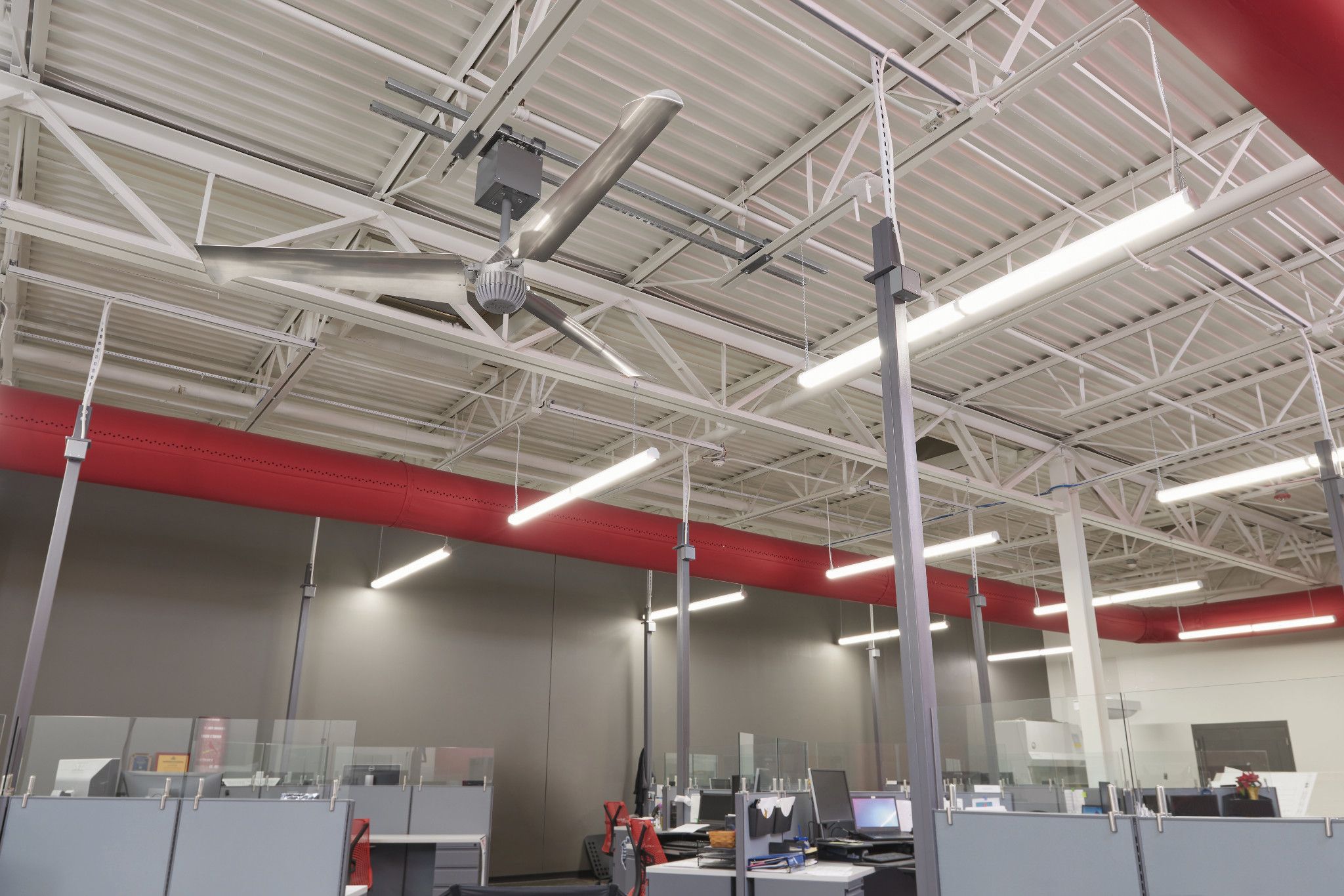 Direct Drive Fan Line-up
Our 3-Blade Direct Drive Fans are available in two different models.
The Revolution 75 Series brings the comfort and efficiency of our classic Revolution HVLS fan with the added benefits of a direct drive motor. This fan is ideal for large facilities and available in 8-, 12-, 16-, 20- and 24-foot diameters.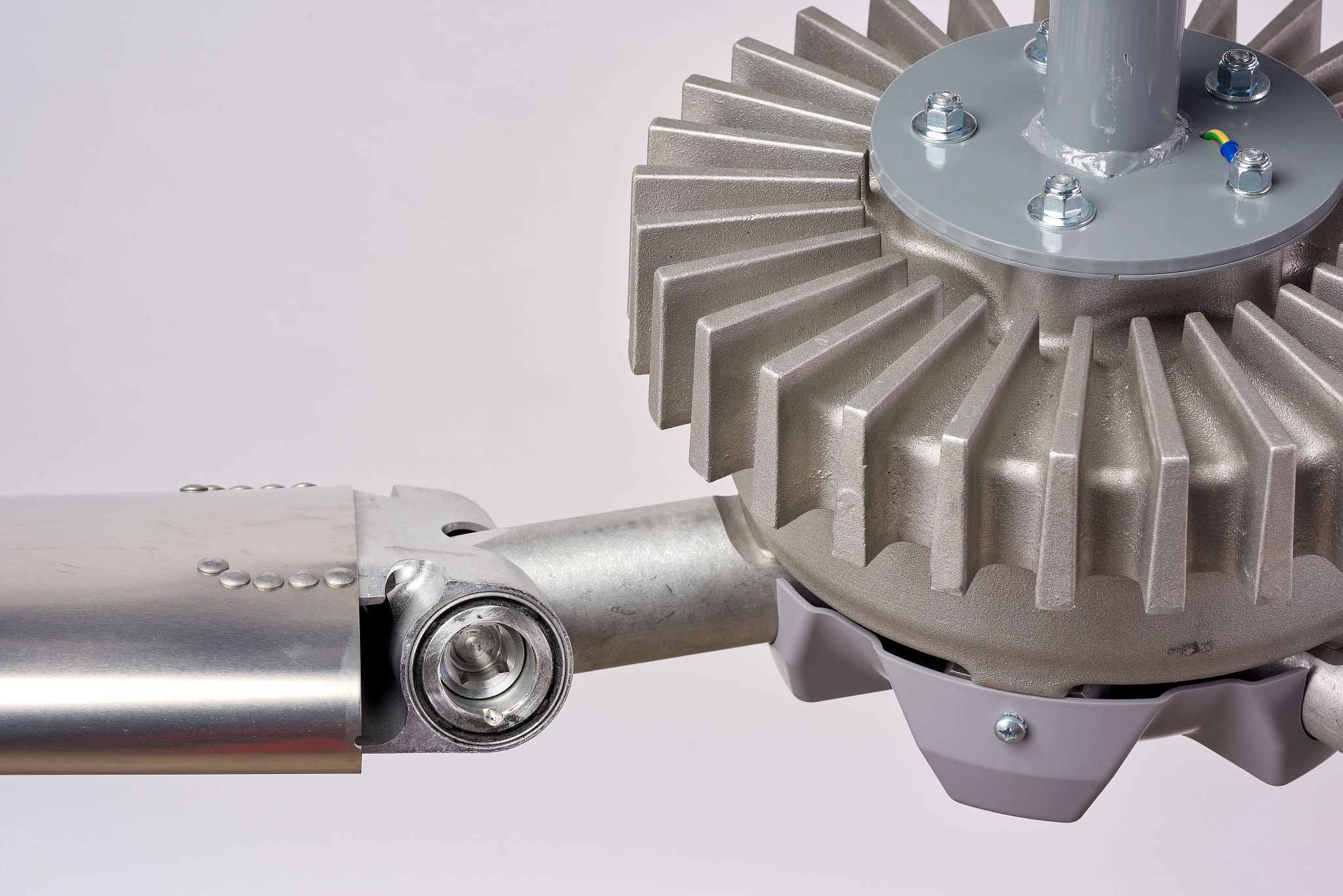 No Oil. No Noise.
Direct drive motors replace the need for a gearbox on HVLS fans, which means no oil is required. Our Direct Drive Motor is nearly silent, operating at less than 45 dBA, so it is also ideal for environments with sound concerns.
Benefits
Our engineers designed this industrial fan with installation simplicity in mind – which means you'll save time and money. Fans are pre-wired and factory configured for each application. Cooling begins almost immediately with standard wireless controls.
Touch screen wireless controls are customizable to a 7-day schedule with the ability to automatically adjust fan speed based on temperature (optional sensor required). Standard Ethernet allows you to access fan controls remotely whether you're standing underneath the fan, or off-site. Verify which fans are running, monitor ambient temperatures, access diagnostics, change fan speeds, start/stop fans, and more.
Every application environment is different. Our application engineers will strategically design a fan layout to maximize airflow for your facility. They will take into consideration your overall airflow goals, potential obstructions, ceiling height, current airflow, and more. Ultimately, you'll have the right size and right number of fans, improving airflow at your facility. Contact us to request a free facility review from your local Rite-Hite representative.
After installation, we're not going anywhere. Customer service and our technicians are available to make sure you completely understand how to operate your new fans, including the customizable controls. A direct drive fan has fewer parts that could require maintenance, however, we recommend and can provide a Preventative Maintenance Program to make sure your fans are always running perfectly, especially when they are needed most.
The Revolution 75 Series fan will cool up 22,000 sq ft, 85' from the fan's center in all directions, and the Revolution 25 Series will cool up to 17,500 sq ft., moving air up to 75' from the fan's center in all directions.
The Revolution 25 Series delivers comfort to smaller spaces. Available in 6-, 8-, 10- and 12-foot diameters, the Revolution 25 Series takes comfort to new highs and costs to new lows. It's form and function in perfect balance.
All direct drive fans feature a safety cable integrated into the design of the fan. It extends from the bottom of the motor assembly through the top of the fan assembly, ready for secure attachment to the building structure at installation.
Each blade is attached to the hub in two specific ways; the blade is seated into a secure position on the hub arm and then locked in with a bolt that is tightened with a torque wrench.
The blade to hub connections is strengthened by a vibration-absorbing bushing to help reduce the stress by 50 to 75%. This design has been used for over 40 years in applications generating more than 10 times the stress of our largest HVLS fan. Our confidence in this design is why we provide a 10-year structural integrity warranty on the blade-to-hub connection.
Need more info?
Fill out the form below and one of our reps will reach out to you.
improving industrial safety, security and productivity worldwide THROUGH QUALITY AND INNOVATION

WANT MORE INFORMATION?
Fill out the form below and one of our reps will reach out to you.
Thank you for filling in the form.
Someone from our team will be in touch with you shortly.