Industrial Temperature Control Curtains
Maintain consistent temperatures
Solution up to 40°F (22°C)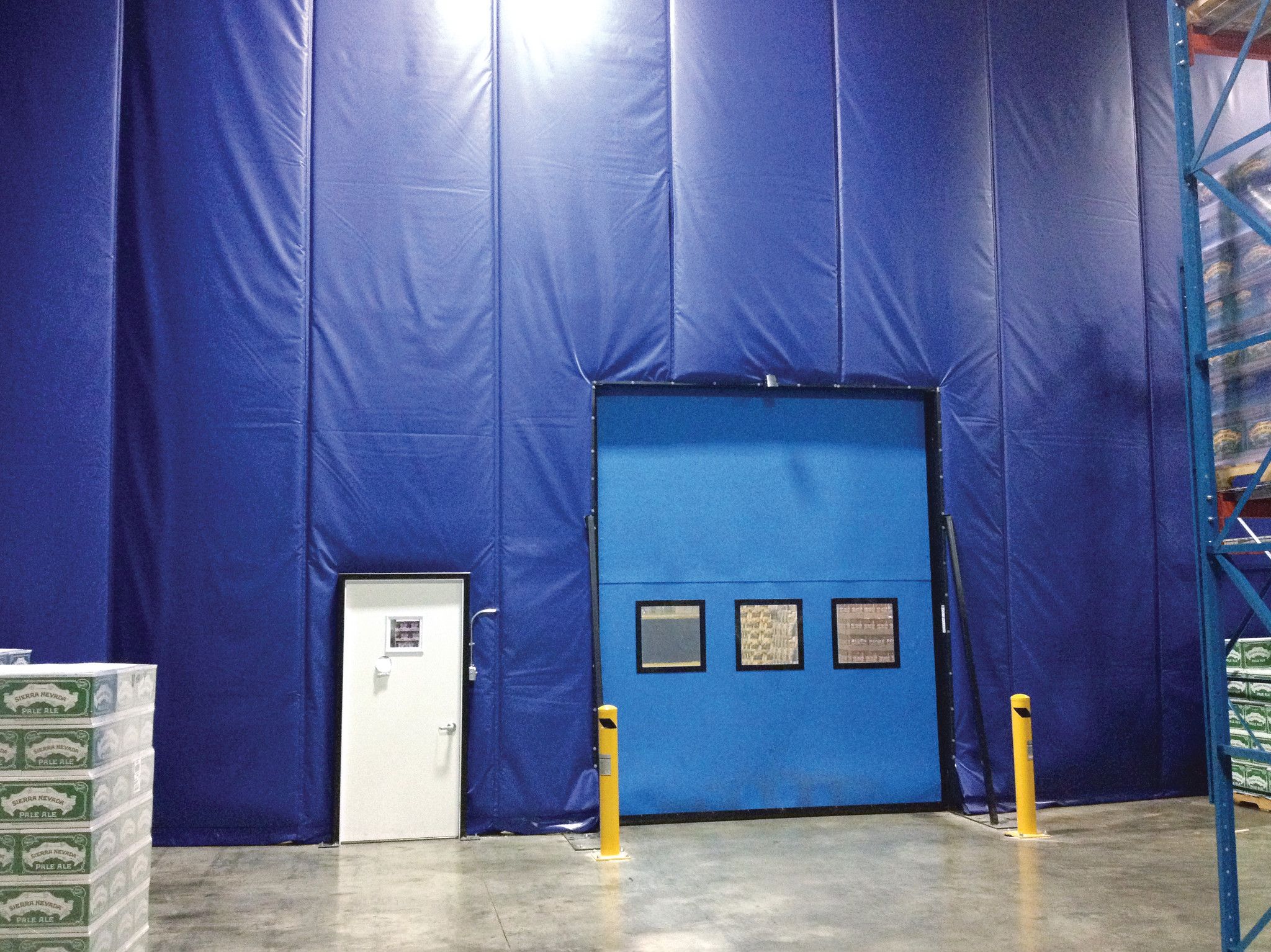 Industrial Temperature Control Curtains
Zoneworks® Temperature Control Curtains by Rite-Hite are an affordable and effective way to partition off areas that require temperature control.
TZ Insulated Curtain Walls
HOW TEMPERATURE CONTROL CURTAINS WORK
Zoneworks® Temperature Control Curtains by Rite-Hite provide up 40°F (22°C) of temperature separation. Our insulated curtain walls can be used to keep employees warm or cool in specified plant areas where treated air is needed, divide cooler/freezer space, and protect temperature-sensitive items or processes.
TZ Insulated Curtain Walls are constructed of 18-ounce fire retardant vinyl fabric that wraps around antimicrobial polyester batting that is FMVSS-302 certified. Panels connect using touch and hold panel-to-panel connections and come with a bottom fabric sweep.
Control temperatures in specific areas of your building without heating or cooling entire areas for the same benefit, resulting in significant energy savings.
Create temperature-controlled rooms for separating raw ingredients or end-products and storing them in proper environmental conditions.
Isolate and keep products stored at the proper temperature in walk-in coolers and freezers.
INDUSTRIES SERVED
Perhaps you are creating a new production area in your facility that requires a controlled climate or are trying to seal off space to store temperature-sensitive products temporarily, Zoneworks insulated fabric curtains benefit various applications and industries.
Food and Beverage – Keep your temperature-sensitive perishable products zoned properly by partitioning off spaces that may require different temperatures. Prevent environmental elements from getting in while maintaining consistent temperatures.
Pharmaceutical and Medical – Create temperature-controlled storage for medical and pharmaceutical products.
Warehousing and Distribution – Meet your requirements for holding product at temperature without the use of a permanent wall; allows for quick changes for the next customer. Also, use to close off unused portions of the warehouse so there is no need to heat or cool to save on energy.
Cold Storage – Divide low freezer temps from freezer temps for separated space and blast cell applications.
FREQUENTLY ASKED QUESTIONS
Can I use insulated curtain walls to close off areas of my facility that are either not being used or do not require temperature control?
Yes. Keep in mind that in coolers, it is important to maintain air circulation in closed off areas to avoid "stale air" and the potential of mold growth. In freezers, the unused area can be brought up to 30 degrees; any warmer than that and you can create issues of humidity infiltration causing ice. In heated and A/C controlled areas that need separation, TZ curtains are an ideal energy saving solution.
Can I use an insulated curtain wall to create a cooler within my freezer?
Yes, with limitations. Maximum 45°F temperature difference between the cooler and the freezer. You can also separate and create a warmer area for production/productivity reasons. Again, maximum 45°F temperature difference between the cooler and freezer – however, temperature in the warm area should not exceed 32°F as this can lead to icing issues.
Will an insulated curtain wall work in my -20°F freezer to create an ice cream room?
Yes, the high insulating value of TZ walls make them ideal barriers to separate a -20°F freezer from ice cream rooms at between -5°F and +5°F.
Can I use insulated curtain walls to create a cooler or freezer in my facility?
Coolers can be created in certain situations – within a controlled environment (heated or cooled facility), such as for short-term seasonal overflow coolers. Separate mechanical cooling/control system (provided by others) would be required to maintain cooler temperature. You cannot create a freezer, as a TZ wall is not a complete air barrier.
Need more info?
Fill out the form below and one of our reps will reach out to you.
improving industrial safety, security and productivity worldwide THROUGH QUALITY AND INNOVATION

WANT MORE INFORMATION?
Fill out the form below and one of our reps will reach out to you.
Thank you for filling in the form.
Someone from our team will be in touch with you shortly.