Industrial Wall Curtains
Custom-designed to your space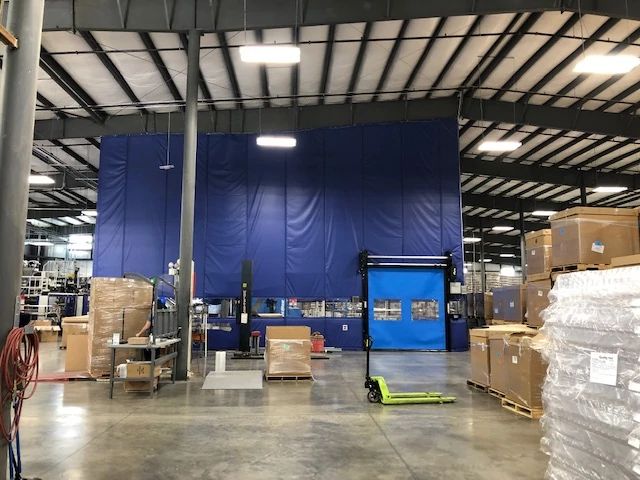 Curtain Walls Designed For Space Separation
Industrial curtain space dividers partition areas in your facility, letting you reconfigure and organize your space for various uses. Rite-Hite's Curtain Walls provide the flexibility of space separation when and where you need it.
SCL Fabric Curtains
HOW INDUSTRIAL CURTAIN DIVIDERS WORK
Companies often feel limited by or locked into their current facility layout when, in reality, there is an incredible opportunity to reconfigure their space quickly, efficiently, and economically. Zoneworks® industrial curtain space dividers are the perfect space separation solution to create, define, or control your space.
Modular panels connect with hook and loop fasteners, allowing for walls in virtually any size, shape, or dimension.
Custom-designed to each application, SCL industrial divider curtains can be made with different fabrics and properties, with the operating environment and site-specific factors dictating the best configuration.
Reconfigured, relocated, or removed, fabric walls can be changed as a facility's needs change.
Fabric curtain walls provide the benefit of long-term flexibility, offering the ability to reconfigure your space again and again to tackle future changes as they arise.
INDUSTRIES SERVED
Zoneworks® modular walls are highly adaptable to your changing needs in floor plans, product flow, machinery changes, personnel placement, and building expansions. Rite-Hite's Industrial Curtains are the perfect solution for a variety of industries and applications.
Warehousing and distribution space separation – Warehouse SCL Divider Curtains partition off designated areas; you can create space for people, products, or processes.
Space separation for cold storage – Our TZ Insulated Curtains are an inexpensive solution to create different temperature zones in your facility or cooler.
Contain odors, isolate wash-down areas, or limit the spread of food dust – Our SCL Non-Insulated Industrial Curtains and dividers are the ideal space separation solution for the food and beverage industry.
Space separation for your automotive needs – Your factory or auto shop may need to create space for specialty work such as painting, repairing, detailing, or washing.
Custom-designed spaces for your application – Zoneworks SCL Industrial Curtain Walls are fully customizable, making them beneficial for your unique space separation project.
FREQUENTLY ASKED QUESTIONS
What materials are industrial curtain dividers made of?
Non-insulated fabric curtain walls are constructed of 18-ounce vinyl fabric that is fire retardant and meets NFPA-701 and CFM flame resistant standards. Modular panels are five feet wide and attach top to bottom using heavy-duty touch and hold panel-to-panel connections. At the bottom of the curtain is an integral base fabric sweep. Insulated divider walls are also constructed of 18-ounce vinyl fabric that is fire retardant and meets NFPA-701 and CFM flame resistant standards. This vinyl fabric wraps around antimicrobial polyester batting that is FMVSS-302 certified. Panels connect using touch and hold panel-to-panel connections and come with a bottom fabric sweep.
How much do fabric curtain walls cost?
The simplicity of curtain walls and their components culminate in a product that does not require a specialized sub-contractor and allows for a speedy installation with minimal interruption to your daily operation. This results in savings of roughly 40-60% over traditional construction costs on sizeable projects.
Do curtain space dividers come in standard sizes?
No, every curtain wall is custom built for each project and designed by our engineers. This allows the curtains to be configured in virtually any size, shape, or dimension – making them rich with potential for varied applications.
Can you add doors to curtain walls?
Yes, Zoneworks curtain walls can incorporate any type of door (PVC strip doors, high-speed doors, impact doors, sectional/rolling steel doors, steel man-doors, etc.) with the addition of steel framing supplied by Rite-Hite or fabricated locally per our provided drawings. Doors can be installed anywhere in the wall at any time with simple field cuts. To find out more, consult with a local Rite-Hite representative.
Need more info?
Fill out the form below and one of our reps will reach out to you.
improving industrial safety, security and productivity worldwide THROUGH QUALITY AND INNOVATION

WANT MORE INFORMATION?
Fill out the form below and one of our reps will reach out to you.
Thank you for filling in the form.
Someone from our team will be in touch with you shortly.