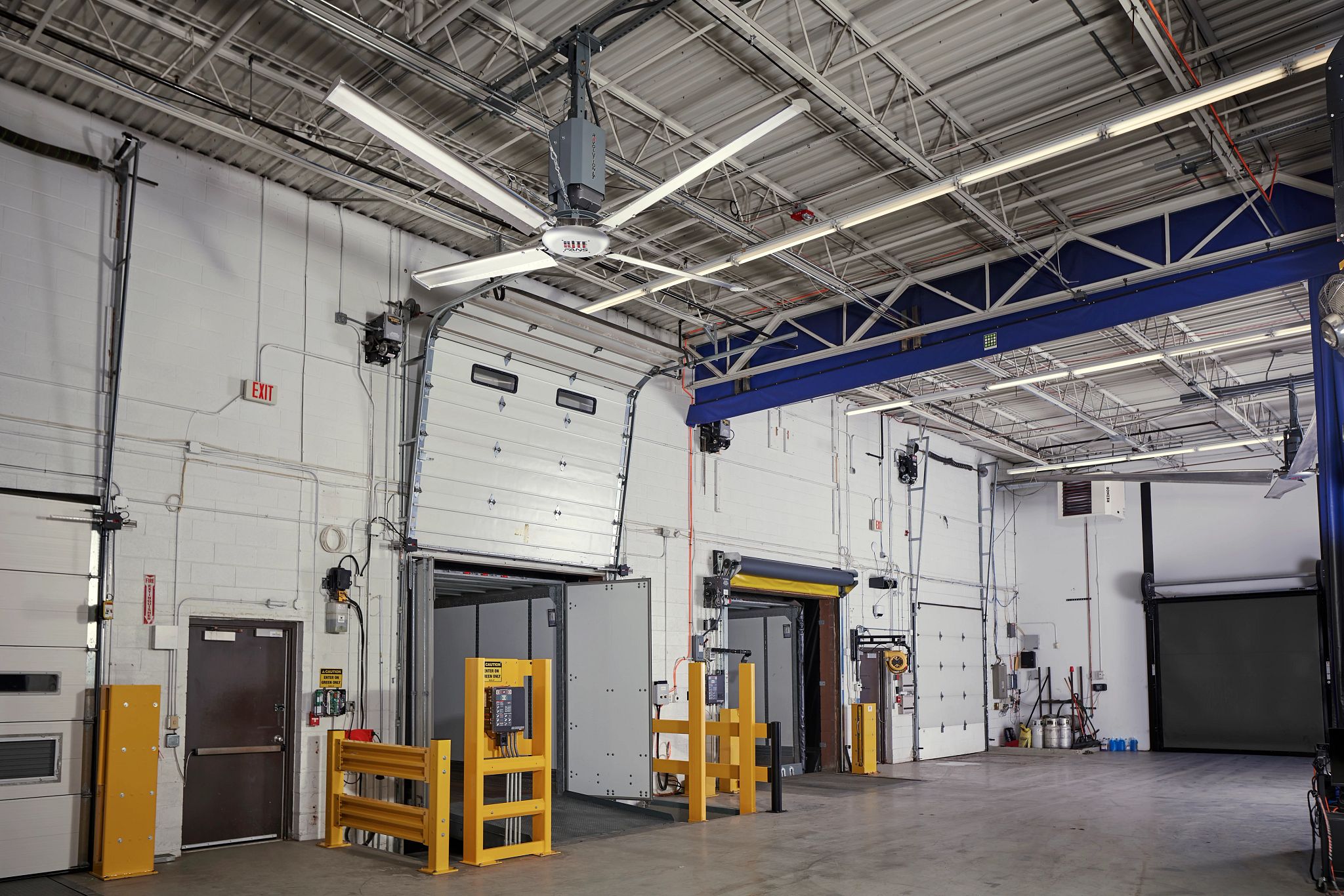 A Big HVLS Fan Without a Big Price Tag
The Revolution LT is a four-blade high volume, low speed (HVLS) fan that is an economical choice when you are on a limited budget, while still maintaining the same safety and quality as other Rite-Hite HVLS fans.
Big Fan = Big Benefits
Consistent and effective air movement are critical in any facility. HVLS fans are used for more than just cooling. Learn how you can maximize productivity, prevent accidents and protect your product.
Benefits
Available in 8' (2440 mm), 12' (3660 mm), 16' (4880 mm), 20' (6100 mm) and 24' (7320 mm) diameters
Covers up to 22,000 sq. ft., moving air up to 85 ft. in all directions from the center of the fan
Formed aluminum blades incorporate tilt, taper, and twist to produce consistent airflow across the entire length of the blade, eliminating pockets of stagnant air under the center of the fan
Improve productivity by providing evaporative cooling and destratification
Help reduce moisture accumulation and stagnant air pockets
4-blade geared motor fan for continuous air movement
Precision-milled layered aluminum hub and bolt
The blade and hub are balanced for smooth, efficient performance
Approximate weight is 300 lbs (Actual weight varies according to the fan size and mounting style)
Optional motor shroud and hub cover available
Custom colors and logos are available
The Revolution LT features a three-way motor-to-hub safety connection, as well as stabilizing cables and motor housing
A unique safety ring is provided for back-up security for the motor-to-hub connection
Each hub "resilient arm" is connected to the safety ring
The Revolution LT HVLS Fan is operated by a single fan controller and provides wired communication between the touch screen interface and fan control box.
View and adjust On/Off settings, fan speed and system diagnostics
Password protection prevents unauthorized use
Dimensions: 6"W x 4.75"H (15.25 cm W x 12.1 cm H). Screen size is 4" (measured diagonally)
The Revolution LT HVLS fan can be a smart, economical choice for any budget. It is ideal for use in a wide variety of applications including:
Auto Dealerships
Retail buildings
Fulfillment, Warehouses & Distribution Centers
Smaller facilities in need of cooling or destratification
Hundreds of Other Applications
3-year parts & 1-year labor warranty
10-year structural integrity warranty
Lifetime warranty on workmanship of blades and interlocking fan arms
12-month limited money-back guarantee
Need more info?
Fill out the form below and one of our reps will reach out to you.
improving industrial safety, security and productivity worldwide THROUGH QUALITY AND INNOVATION

WANT MORE INFORMATION?
Fill out the form below and one of our reps will reach out to you.
Thank you for filling in the form.
Someone from our team will be in touch with you shortly.