GuardRite Removable Handrail
Separation means protection in your plant
Your plant can be a dangerous place. When it comes to protection, a yellow line painted on the floor just doesn't cut it.
The GuardRite® Removable Handrail is used as a visibility barrier to separate and protect areas of your plant that need occasional access. The handrails lock in place, are removable between posts, and are self-storing to allow for a clean operation.
Designed for impact
Designed to stop up to 5,000 lbs. (2273 kg). Consult the GuardRite Removable Handrail BLAST Impact Rating chart below for complete weight and speed ratings
Rugged steel construction
1.5" (38 mm) O.D. x 14GA. hand rail tube
Posts provided with three .5" (13 mm) wedge style anchor bolts
Flexible design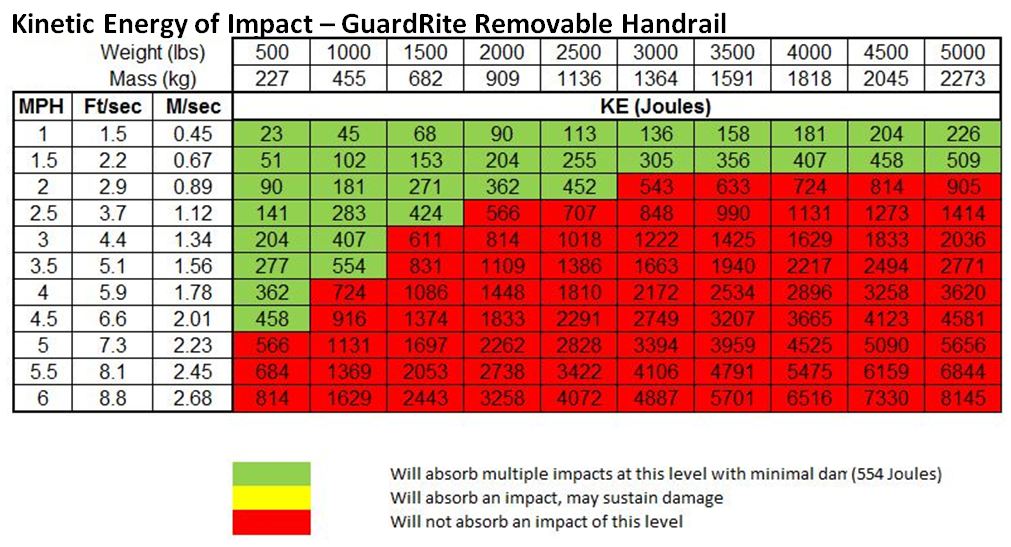 *Consult The Science of Safety white paper for a complete explanation of the information contained within this chart.
improving industrial safety, security and productivity worldwide THROUGH QUALITY AND INNOVATION