GuardRite Steel
Separation means protection in your plant
Your plant can be a dangerous place. When it comes to protection, a yellow line painted on the floor just doesn't cut it.
A common alternative is steel posts and fixed guardrail systems, which do an excellent job of separating common areas from dangerous ones.

Protect your assests
GuardRite® Steel helps prevent forklifts, sweepers and other in-plant vehicles from damaging your facility or equipment, and injuring your employees
Helps avoid costly downtime and repairs
Designed for impact
Designed to stop up to 30,000 lbs. (13,636 kg). Consult the GuardRite Steel BLAST Impact Rating Chart for complete weight and speed ratings.
Choose the single rail system at 23" (580 mm) high or the double rail system at 44" (1120 mm) high when extra protection is needed.
Simply bolt GuardRite Steel components together and anchor the mounting posts to the floor
Install without any disruption to your operation
Ideal in situations where rigid, durable protection is needed. Examples include isolating open, exposed work areas, separating conveyors from pallet storage, and protecting workstations at loading docks.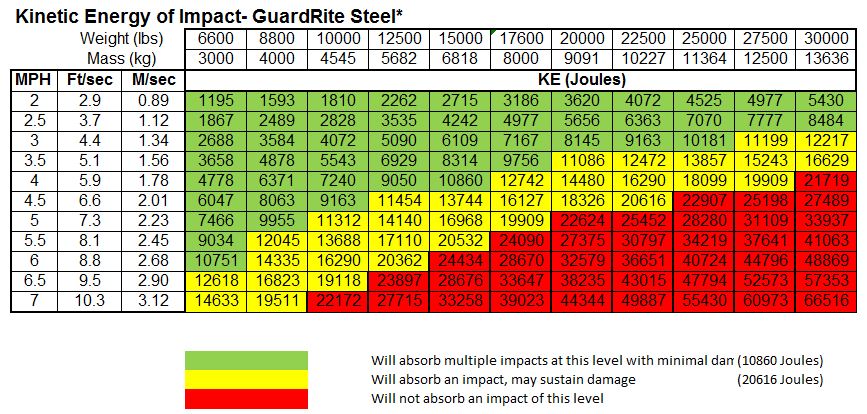 *Consult The Science of Safety white paper for a complete explanation of the information contained within this chart.
improving industrial safety, security and productivity worldwide THROUGH QUALITY AND INNOVATION